ZENB Sweetcorn and Tahini Macaroni
SERVES 2
PREP TIME 10 minutes
COOK TIME 15 minutes
TOTAL TIME 25 minutes
FEATURED IN RECIPE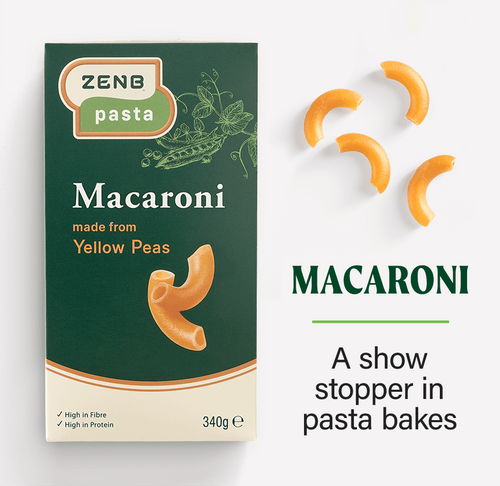 Macaroni Pasta
This is a simple version of a mac and cheese loaded with golden sweetcorn and creamy tahini. Make this recipe in a large batch and heat it through the week for a quick and tasty dinner.
INGREDIENTS
1/4 Box (85g) ZENB Macaroni Pasta made from 100% Yellow Peas, uncooked
1 tablespoon plant based butter
150g frozen sweetcorn
50g light tahini
1 tablespoon nutritional yeast
1 teaspoon white miso
¼ teaspoon chilli flames
½ teaspoon turmeric
4 cashew nuts
Freshly cracked black pepper and sea salt
INSTRUCTIONS
1.
Cook ZENB Macaroni Pasta as directed on the box. Once cooked drain and set aside. Heat a frying pan with the butter and add the sweetcorn to the pan.  Cook the peas for a couple of minutes until they are thawed then add the beans to the pan too.
2.
Season the sweetcorn and beans with a pinch of salt  Blend the tahini with the spices and half  of the sweetcorn and 150 millilitres  of water, until smooth. Now mix the pasta with the tahini sauce and warm through in the pan
3.
Serve the sweetcorn and tahini pasta in bowls with grated cashews on top. The dressed salad will keep for three days in a sealed container in the fridge.
Tasty Tips
For an extra nutty flavour use roasted cashews grated on top, or explore different nuts like macadamias and brazil nuts which all add a great flavour.