Zeinah Nur's Cajun Chicken and Ricotta ZENB Penne Pasta
SERVES 3
PREP TIME 10 minutes
COOK TIME 20 minutes
TOTAL TIME 30 minutes
FEATURED IN RECIPE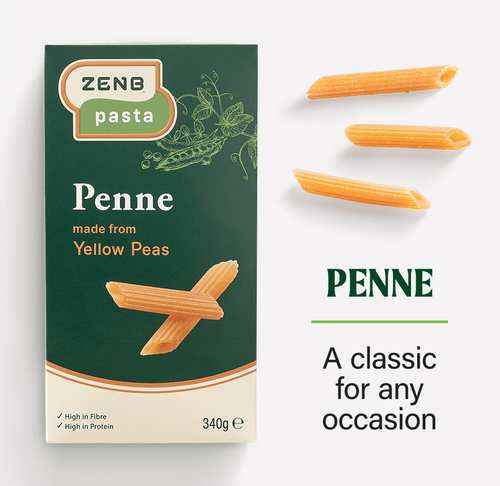 Penne Pasta
INGREDIENTS
Pasta Sauce
1 onion
200g of ZENB Penne
3 garlic cloves, minced
1 chilli de-seeded
1/2 red pepper
1-2 tsp salt
1 tsp smoked paprika
1/4 cup double cream
2 tbsp ricotta or goat cheese
1/4 cup pasta water
Cajun Chicken
Diced chicken breast
1 tsp chicken seasoning
1 tsp garlic granule
1/2 tsp paprika
1/4 tsp cayenne pepper
1/4 tsp cajun seasoning
INSTRUCTIONS
1.
In a pan heat some olive oil, add chopped onions, de-seeded green chilli and mixed peppers.
2.
Add a little salt and fry gently for 5 minutes until soft, add minced garlic let that cook for a few minutes and then add 2 tsp of smoked paprika. Mix everything till it's well combined.
3.
Add a dash of double cream mix well and then add 1/4 cup of (your choice) tomato pasta sauce, 1 tablespoon of ricotta cheese mix well and your sauce is ready.
4.
Cook your ZENB pasta following the packet instructions, drain the pasta and add to your sauce.
Tasty Tips
For a different taste, replace the ricotta cheese with goats cheese
Top the finish pasta dish with sliced mixed roasted peppers
For more flavour, leave the chicken to marinate for 2 hours before cooking