When it gets to the end of the week and you're looking through your fridge
wondering what to rustle up — this recipe is for you! Put any vegetables in this quick and simple batter, top with a creamy houmous, greens and crispy root vegetable peels. Delicious!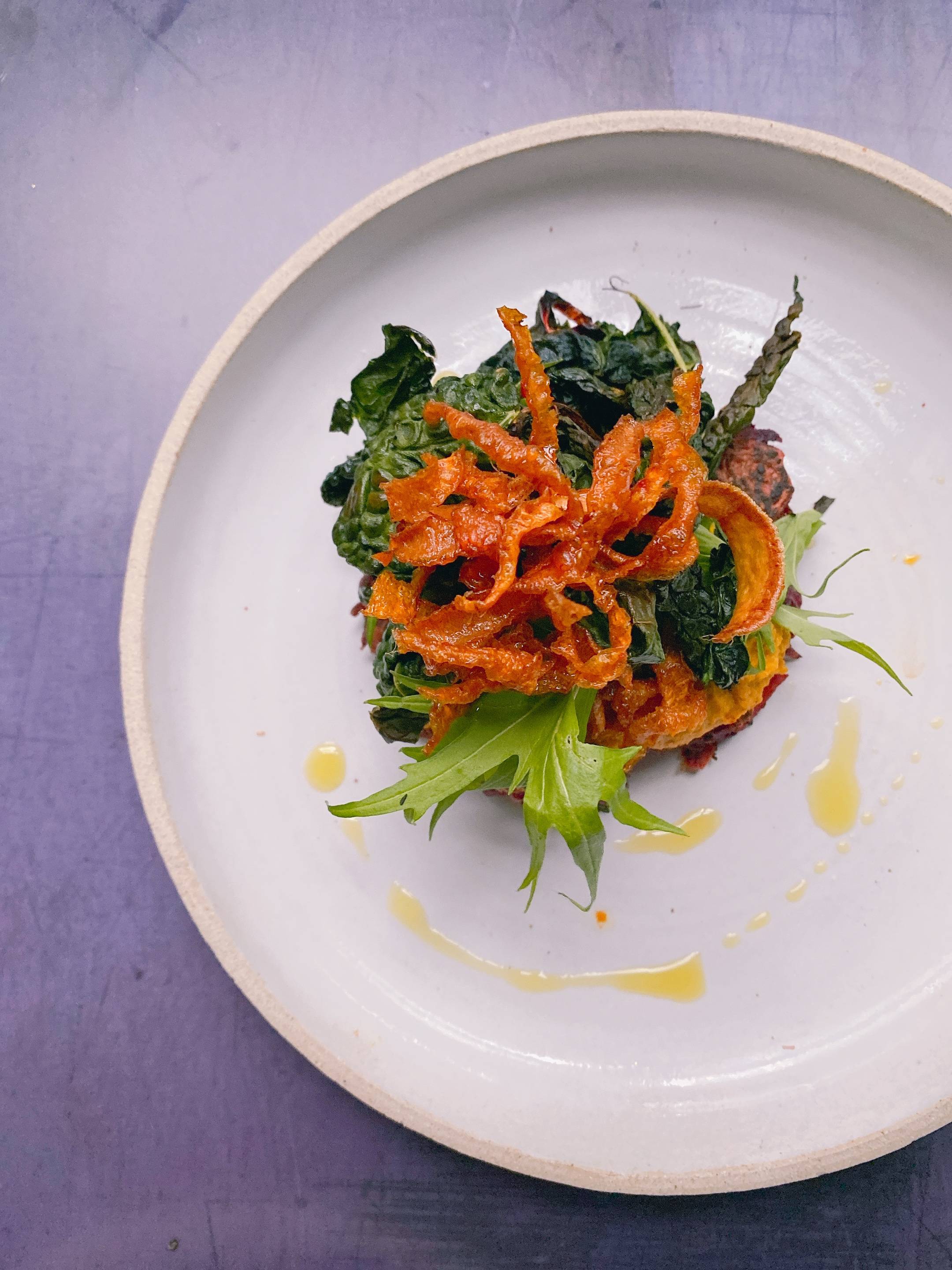 SERVES: 2
Fritters
250g chickpea flour
575ml water
375g root vegetables, grated; we like parsnips, carrots, beetroots, squash and potatoes, cleaned and peeled (keep any peelings for the cracking later)
½ tablespoon smoked paprika
½ pinch ginger
Big pinch of salt
2 tablespoons olive oil
Roasted Root Houmous
250g roasted roots: choose between carrots, beets or squash
2 garlic cloves, peeled
30g tahini
65ml water
½ lemon, juiced
½ teaspoon cumin
Pinch of salt
Sautéed Kale
1 tablespoon olive oil
1 bunch kale or cavelo nero, washed and well-dried, stems stripped and finely chopped
1 red chilli, finely chopped
Pinch of salt
Vegetable Peel Crackling
Vegetable peels
125ml oil — use any oil you prefer
Pinch of salt
Fritters
1. This is an optional step, but it's wonderful to lightly ferment the chickpea batter the night before (or in the morning) you plan to serve your fritters. To do this, simply mix the flour and water together, place in a glass bowl covered with a cloth and leave to ferment.
2. The next day fold through your vegetables and spices. If you don't have time to ferment the chickpea batter, then miss out this step and just mix the batter and fold through the vegetables and spices.
3. Heat the oil in a frying pan and add one medium ladleful of the batter to the pan, spreading it out to about ½ cm thick.
4. Cook for a couple of minutes on each side until lovely and golden.
Roasted Root Houmous
1. Blend all of the ingredients together until smooth.
2. Adjust the consistency by adding more water if you like a thinner houmous and less if you prefer it thicker.
Sautéed kale
1. Heat the oil in a medium frying pad, add the kale stems, salt and chilli, and sauté for one minute.
2. Add the leaves and cook on a high heat for another minute.
3. Add a splash of water until kale is lightly steamed and cooked all the way through.
Vegetable Peel Crackling
1. Heat oil in a small saucepan until hot. Carefully add peels and fry 2-3 minutes, depending on the vegetable, until crisp and golden in colour.
2. Carefully remove peels. Place on a piece of kitchen roll to drain off the excess oil.
3. Sprinkle with salt.