Veggie Macaroni bake with ZENB Mushroom Ragu
SERVES 3
PREP TIME 10 minutes
COOK TIME 40 minutes
TOTAL TIME 50 minutes
FEATURED IN RECIPE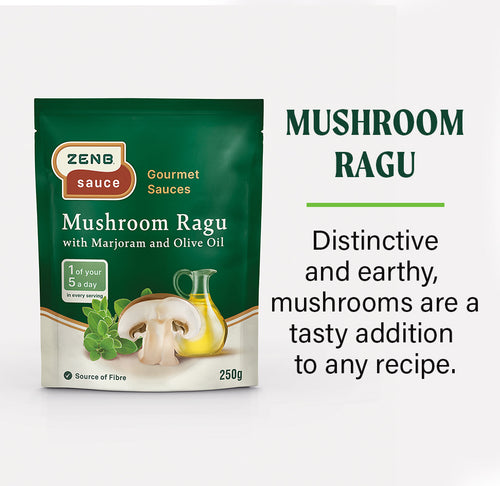 Mushroom Ragu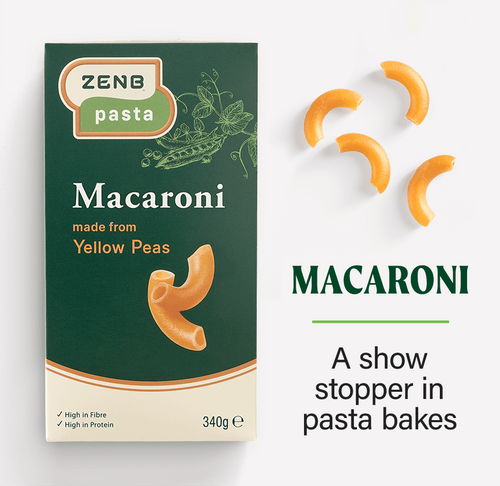 Macaroni Pasta
After a long day in the office, this baked Macaroni dish is the perfect comfort food to pop in the oven and let the Mushroom Ragu take centre stage. ZENB Macaroni is paired with seasonal vegetables, feta and dill to make the perfect simple summery dinner. To bring it all together with ZENB Mushroom Ragu adds rich and savoury flavours.
The best pasta bakes have a crispy topping, the parmesan & breadcrumbs are perfect for a simple & quick crunch. If there's any leftover, it's a great dish for your lunch the next day!
INGREDIENTS
170g ZENB macaroni
1 pack of ZENB Mushroom Ragu
2 tbsp olive oil
1/2 leek - thinly sliced
100g Asparagus - cut into 1-inch pieces
1/2 courgette
Handful of cherry tomatoes - cut in half
1 garlic cloves - crushed
Pinch of salt, pepper, chilli flakes
50g Feta - crumbled
30g Panko Breadcrumbs
30g Parmesan - 1/3 to add to the Ragu - 2/3 for bake topping
Fresh dill - to taste
Pea shoots for a simple side salad or topping to the served dish
INSTRUCTIONS
1.
Preheat the oven to 180 degrees Celsius.
2.
Bring a large pot of lightly salted water to a boil, cook the ZENB Macaroni for 4 minutes making sure they are still firm to the bite. Drain the pasta and rinse under cold water to stop the cooking process.
3.
Meanwhile, heat oil in a frying pan over a medium heat cook the leeks until they soften. Add the asparagus, courgette and cook for 4 minutes until they start to soften.
4.
Add tomatoes, garlic, salt, pepper & chilli flakes and stir through.
5.
To the cooked pasta, add the vegetables, ZENB Ragu, 1/3 of parmesan and stir through.
6.
Add this all to a baking dish, add crumbled feta, panko breadcrumbs and lastly parmesan. Bake in the oven for 30 minutes until the topping is golden and crisp.
7.
Serve with chopped fresh dill and a simple pea shoot side salad.
Tasty Tips
Don't over cook the pasta or vegetables. The pre-cooking before popping in the oven is to make an initial blanch to the vegetables and pasta as the oven will do the rest.