Vegan Sri Lankan curry
SERVES 6
PREP TIME 10 minutes
COOK TIME 30 minutes
TOTAL TIME 40 minutes
FEATURED IN RECIPE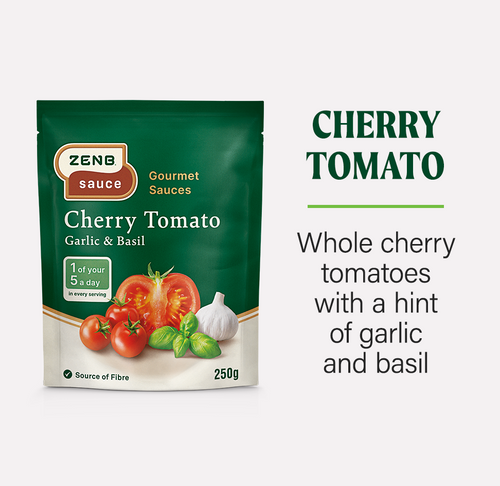 Cherry Tomato Gourmet Pasta Sauce
Try this incredible vegan Sri Lankan curry, rammed with veg, flavour and ready in just over 30 minutes, created by me, Ian Haste of Hasteskitchen.
I've used one of the new ZENB Gourmet Sauces to create the base of the curry sauce. The new range consists of Sweet Carrot, Tomato & Oregano, Cherry Tomatoes, Garlic & Basil, and Red Pepper, Sauteed Onion & Olive Oil. They're ready to cook, making them a flavour-packed, fuss-free, and a convenient way to elevate your meals.
INGREDIENTS
1 x Tomato & Basil Gourmet Sauce
1 x large sweet potato chopped into cubes
1 x aubergine chopped into cubes
2 x tbsp sesame oil
1 x onion finely sliced
8 x cardamom pods (seeds)
1 x tsp Panch Phoron or Pinch of Cumin, Brown Mustard, Fenugreek, Nigella and Fennel
2 x tsp Coriander seeds
1 x tsp mixed peppercorns
1 x tsp black mustard seeds
6 x cloves
1 x lemon juice
1 x tsp turmeric
2 x tsp cumin powder
1 x large cinnamon stick
1 x bunch fresh coriander
3 x tsp pureed garlic
3 x tsp pureed ginger
3 x tsp chilli sauce
400g x chopped tomatoes
400g x coconut milk
8-10 x tenderstem broccoli
10-12 x fine green beans
Serve with basmati rice
Coriander to garnish
INSTRUCTIONS
1.
Add the aubergine and potato to a baking tray and a drizzle of sesame oil, season with salt and pepper, then add to an oven at 180c for 20 minutes. Add some oil to a frying/saucepan and add the onion.
2.
Add the cardamom, panch phoron, coriander seeds, peppercorns, mustard seeds, cloves, lemon, turmeric and cumin and fresh coriander to a spice blender or Pestle and Mortar, grind until you have a powder/paste.
3.
Add the paste to the onion along with the chilli paste, garlic puree and ginger puree. Add the roasted sweet potato and aubergine to the onions, along with the ZENB Gourmet Sauce, coconut milk and chopped tomatoes.
4.
Add the cinnamon stick and allow to simmer for 15 minutes. Add the broccoli and green beans, cook for 2- 3 minutes.
5.
Serve with rice and coriander garnish.
Tasty Tips
Make the spice mix up in large baches and keep for future recipes or just stir into coconut milk for a really quick curry base.