Vegan Chilli Mac & Cheese with Pasta Agile
SERVES 2-4
PREP TIME 15 minutes
COOK TIME 15 minutes
TOTAL TIME 30 minutes
FEATURED IN RECIPE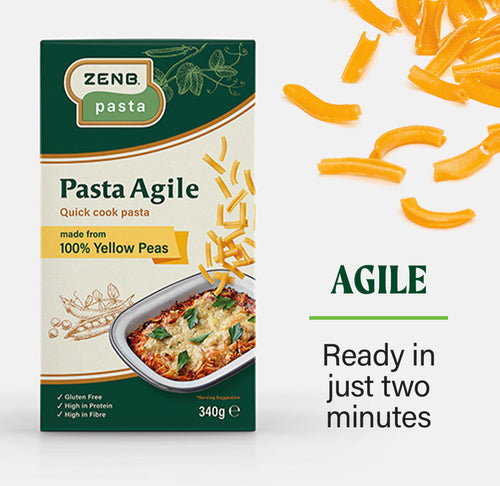 Quick Cook Pasta Agile
Jazzing up a classic dish loved by many by using ZENB Pasta Agile to save time. The time saved meant I could add lots of other flavours for a delicious twist on the staple comfort food. Made from 100% yellow peas with just a two-minute cooking time, and no pre-boil necessary. This recipe is vegan, gluten-free and healthier than a regular mac & cheese AND so much more exciting!
Brought to you by: Nadia Al-Khaffaf @nadiashealthykitchen
INGREDIENTS
Cheese Sauce
300g silken tofu
1 veg stock pot
1 tsp Dijon mustard
4 tbsp nutritional yeast
¼ tsp turmeric
1 ½ tbsp cornflour
Bean Chilli
3 spring onions
1 red pepper, diced
3 garlic cloves
1x 400g can kidney beans, drained and rinsed
1x 400g can black beans, drained and rinsed
Juice of 2 limes
2 tsp paprika
1 tsp cumin
1 tsp oregano
½ tsp chilli powder
60ml water
Small bunch of coriander
100g ZENB Pasta Agile
INSTRUCTIONS
1.
Blend all the cheese sauce ingredients in a food processor until smooth.
2.
Heat 1 tbsp oil in a large pan and cook the onions and red pepper for 5 minutes.
3.
Add the garlic, beans, spices, fresh coriander and lime juice. Cover and cook for another 5-7 minutes.
4.
Fold in the cheese sauce, water and ZENB Pasta Agile. Cover and leave to cook for 2 more minutes or until the pasta is soft.
5.
Serve hot with an optional sprinkle of mozzarella/vegan cheese, chillies, chopped spring onions and fresh coriander.
Tasty Tips
Why not try these optional toppings to freshen things up?
A sprinkle of mozzarella/vegan cheese
Fresh chillies
Spring onions
Fresh coriander