Vegan Cheesy Broccoli Pasta
SERVES 4
PREP TIME 15 minutes
COOK TIME 25 minutes
TOTAL TIME 40 minutes
NUTRITIONAL FACTS
Calories:
| | |
| --- | --- |
| Total Fat | g |
| Saturated Fat | g |
| Trans Fat | g |
| Cholesterol | mg |
| Salt | mg |
| Carbohydrates | g |
| Fibre | g |
* Nutrition information is estimated based on the ingredients and cooking instructions as described in each recipe and is intended to be used for informational purposes only. Please note that nutrition details may vary based on methods of preparation, origin and freshness of ingredients used.
FEATURED IN RECIPE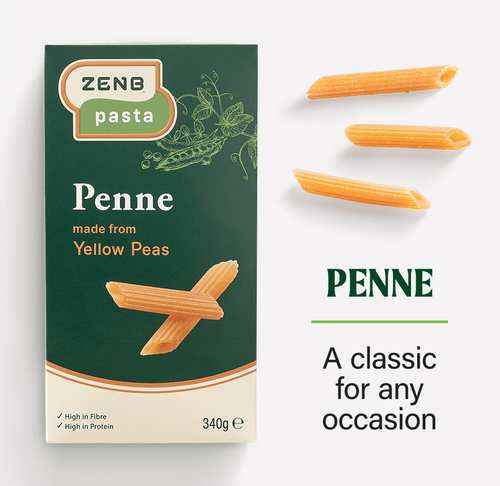 Penne Pasta
This Vegan Cheesy Broccoli Pasta Bake is a bit of a cross between macaroni cheese and cauliflower cheese (only made with broccoli), and of course vegan. High in protein thanks to the ZENB Yellow Pea Pasta and the silken tofu in the cheese sauce, it's a fantastic recipe to make when you have limited ingredients in the cupboard but are looking for a balanced nutritious meal to feed the family.
What's special about Cheesy Broccoli Pasta?
What makes this simple Cheesy Broccoli Pasta Recipe special is its ability to merge two of the quintessential British wintery comfort foods. Macaroni cheese, a dish often eaten by Brits in the winter months benefits from the addition of the nutritional powerhouse, that is broccoli. Whilst then being baked in the oven forming a twist on the classic pasta bake, that is loved by all but especially children and also a cost-effective option for students.
Is this recipe only for kids?
Whilst this healthy cheesy broccoli pasta recipe is perfect for kids, it is definitely one that can be enjoyed by all ages and therefore perfect for families. One of the great things about this recipe is that it really is a recipe that everyone will love. There is nothing worse than having to make separate meals for different family members, especially during the week when we are all often short on time. This recipe can be made ahead of time and just finished off underneath the grill, as and when needed. Is a balanced, nutritional meal that is in – expensive to make, making it a winner as an option for quick weeknight meals.
INGREDIENTS
320g ZENB Yellow Pea Penne
2 Heads of broccoli, cut into small florets
300g Dairy free milk
65g Cashew nuts, soaked in boiling water for 10 minutes
350g Silken tofu
225g Vegan hard cheese, grated
3 tbsp Plain flour
1 tbsp Nutritional yeast
INSTRUCTIONS
1.
Cook your ZENB Yellow Pea Penne according to packet instructions, drain and set aside.
2.
Steam or boil your broccoli for 4 – 5 minutes until just tender, once cooked, drain and set aside.
3.
Make the cheesy sauce by adding the drained cashew nuts, dairy free milk and silken tofu to a blender. Blitz until you get a totally smooth mixture.
4.
Add this smooth mixture to a large frying pan on a medium heat. Once heated through, reduce the heat to low and slowly add 125g of the grated vegan cheese, flour and nutritional yeast. Heat through, whisking continually until combined and thickened. Season with salt and pepper as required.
5.
Add the cooked broccoli and pasta to the cheesy sauce, stirring to combine everything together.
6.
Transfer to an ovenproof dish, top with the remaining grated vegan cheese and place under a grill until golden and bubbling.
Tasty Tips
If you are looking to go that extra mile and make this dish extra special, why not try the following:
Add some dried chilli flakes to the cheesy sauce to make it a little spicy.
Mix the remaining cheese with panko breadcrumbs before topping the pasta and placing underneath the grill to get a crunchy cheesy topping.
If you aren't vegan, use regular milk and Cheddar cheese to benefit from the calcium. Or even try a variety of hard cows' cheeses within the sauce for a variation in flavour.
How is Cheesy Broccoli Pasta Bake served?
This simple Cheesy Broccoli pasta recipe is best served with the ZENB Yellow Pea Penne and ideally enjoyed as soon as the dish is ready. However, if this isn't possible see below for recommendations on storage, reheating etc.
This is a recipe that is sure to become a family favourite and is one that is easily scalable and perfect for batch cooking if you are looking to get ahead for easy weekday meals. Just allow to cool and transfer to the fridge after step 5 and complete step 6 above when ready to eat.
Suitable alternatives if you can't find some ingredients
Broccoli: whilst this recipe calls for the use of heads of broccoli, you could try swapping this for peas, cauliflower or even kale. All these vegetables would work well in this simple pasta recipe, depending on what you have available at the time.
Nutritional Yeast: if you aren't vegan, the nutritional yeast can be swapped out for cream to give the sauce extra creaminess.
Dairy Free Milk: any dairy free milk will work in this recipe (almond, coconut, soya, oat), just ensure you are selecting a variety that is unsweetened. Or if you aren't vegan and are able to eat dairy, you could swap for regular cows milk.
Pasta: this recipe uses the ZENB Penne as it holds the sauce well and the yellow peas ensure it is also high in protein. However, see below for other pasta recommendations if you don't have this available.
Vegan Cheese: the recipe calls for a vegan hard cheese that closely mimics Cheddar. However, if you aren't vegan, this can be swapped for a regular hard cheese of your choice, something like Cheddar, Parmesan or Emmental.
Cheesy Broccoli Pasta variations
Whilst we recommend following the recipe for the best tasting dish, below are a few variations if find yourself wanting to elaborate on the dish a little more:
Macaroni & Cheese: try swapping out the Penne Pasta for the ZENB Yellow Pea Macaroni to make a broccoli twist on the popular classic that is macaroni and cheese. Just follow the original recipe but swap out the pasta or omit the broccoli if you want more of a classic version.
Cauliflower Cheese: another popular angle on this dish is cauliflower cheese, you can try swapping the broccoli florets for cauliflower to get a dish that is closer to this quintessential classic or remove the pasta altogether and serve on the side.
What other pasta shapes go well with Cheesy Broccoli Pasta Bake?
Whilst this recipe uses the ZENB Yellow Pea Penne, any other pasta shape that captures sauce will work well.
Pasta shapes like ZENB's Fusilli or Macaroni would be a good alternative and still deliver that high protein content that keeps this vegan meal balanced.
Otherwise, you could try ziti or rigatoni which would give the dish body knowing that ZENB is working to expand its range of pastas soon.
What to eat with Cheesy Broccoli Pasta Bake?
Whilst you can eat this Cheesy Broccoli Pasta Bake as a main meal, you may find it a little on the rich side, due to the cheese sauce. If you think this might be the case, why not try serving the dish alongside one or a few of these sides:
Crisp green salad
Garlic bread or dough balls
A side of additional steamed green vegetables
And if you are looking to make more of an occasion out of this dish, why not try these suggestions:
Meat – eaters: try stirring some pan-fried bacon pieces through the cheese sauce, before you combine it with the rest of the ingredients or serve alongside sliced roasted chicken breast. Adding a side of toasted ciabatta also gives the perfect vehicle for mopping up any leftover sauce.
Vegans: jump on the craze that is the mac & cheese toastie and create a healthier version by sandwiching the pasta bake between two slices of your favourite bread. Heat a frying pan on a high heat with a little olive oil, add the sandwich, pressing down, cooking on both sides until the bread is toasted and golden.
Vegetarians: create a vegetarian cheesy broccoli pasta recipe and get inventive with your own blend of cheeses to create your very own personalized version of the cheese sauce. Top with breadcrumbs, or even crushed up crisps / tortilla chips for a pasta bake that is next level. Serve alongside a tomato salad to help through all that rich cheesy goodness.
Gluten free: swap out the flour for a gluten free variety but then any of the options above would be fantastic as long as you opt for gluten free bread or crisps.
What to drink with Cheesy Broccoli Pasta Bake?
Given this Cheesy Broccoli bake is quite a rich dish, you are looking for an accompanying drink that cuts through this. Drinks that are dry, acidic and aren't too heavy or complex will work perfectly.
Wines: a dry Sauvignon blanc or unoaked Chardonnay would work well here. Or if you are looking for a red wine, try a variety like a Malbec or a Pinot Noir.
Beer: anything that is lightly gassy with a small bubble formation will help to compliment this dish. A light chilled lager would be the best option if you are looking to enjoy a beer alongside this dish.
When to best enjoy Cheesy Broccoli Pasta Bake?
This cheesy broccoli pasta bake is best enjoyed as soon as it is made, although if you read further down there are options for storing and reheating this recipe.
It is best enjoyed when the cheese has just been grilled so you get that crispy crust on the pasta bake. Therefore, if you aren't eating immediately, we highly recommend holding off step 6 until you are ready to eat the dish.
The benefit of eating this dish straight away is that you can ensure that the pasta doesn't dry out, which can occur a little when you reheat.
How to store Cheesy Broccoli Pasta Bake
To store this cheesy pasta bake, you want to ensure it has cooled completely once you have finished cooking.
You can either complete all of the steps above or complete up until step 5 and finish off step 6 when you are ready to eat it.
Either way, this is a dish that is best stored in the fridge, once cool, transfer to an airtight container where it will keep in the fridge for up to 3 days
How long does Cheesy Broccoli Pasta Bake last in the fridge?
This is a recipe that you can make ahead and return to when you are short on time. As long as the Cheesy Broccoli Pasta Bake is stored in the fridge in an airtight container, it will keep for up to 3 days.
Can Cheesy Broccoli Pasta Bake be frozen?
Whilst technically you could freeze this pasta bake, it isn't something that we would recommend. Simply because the sauce is prone to splitting very easily when you thaw and reheat it. Giving you a dish where the sauce has lost its creaminess and becomes watery.
Can Cheesy Broccoli Pasta Bake be reheated?
It is possible to reheat this broccoli pasta bake.
When you are ready to eat, remove a portion from the fridge and heat through in a pre-heated oven at 160oc until warmed through. Or microwave on full power until hot in the centre.
If microwaving, it is worth adding a tbsp or so of water to the dish to ensure it doesn't dry out as it reheats.
What is the difference between Cheesy Broccoli Pasta and Cheesy Cauliflower Pasta?
There is little difference between cheesy broccoli pasta and cheesy cauliflower pasta. The only real difference is the choice of vegetable, using cauliflower in one of the recipes and broccoli in the other.
This is what makes this healthy Cheesy Broccoli Pasta Recipe so versatile as it is easy to swap out the vegetables for whatever you have available at the time.