Ultimate Veggie Chilli with Aubergine Ragu
SERVES 4
PREP TIME 10 minutes
COOK TIME 20 minutes
TOTAL TIME 30 minutes
FEATURED IN RECIPE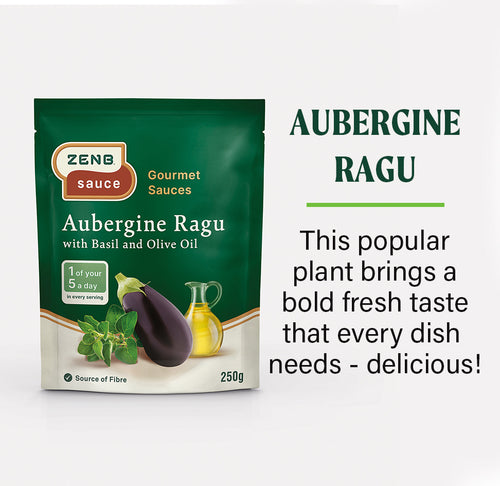 Aubergine Ragu
To celebrate the launch of our new aubergine ragu sauce, we partnered with the food photographer & recipe developer Jo Harding (@ modernfoodstories) to create a unique recipe to show the versatility of the sauce beyond using it just with pasta!
We present you an umami bomb of a flavour packed chilli without the need for a million spices. Thanks to ZENB's new aubergine ragu the hard work is done for you. Just add fresh veggies and a few everyday store cupboard spices and you've one amazing chilli ready in under 30 minutes.
Packed with fibre and one of your five a day, the new aubergine ragu sauce is both nutritious and delicious. Plus, it's gluten-free and vegan, so it's suitable for a wide range of dietary needs. And the best part? It's made right here in the UK! So why not try add some flavour to your next pasta night? You won't be disappointed!
INGREDIENTS
2 packets ZENB aubergine ragu
2 tbsp extra virgin olive oil
1 medium onion, finely diced
1 red pepper, finely diced
2 large garlic cloves, minced
1 1/4 tsp mild chilli powder
1 tsp smoked paprika
1 1/4 tsp ground coriander
1 tsp ground cumin
1 tsp dried oregano
1/2 tsp flaked sea salt, or to taste
1/2 tsp black pepper, or to taste
1 tin (400g) black beans or kidney, drained + rinsed
1 tin (400g) green lentils, drained + rinsed
1/3 cup yoghurt, vegan yog or sour cream
4 tsp fresh coriander, chopped
Optional avocado, chilli flakes and jalapenos
Rice
INSTRUCTIONS
1.
Heat the olive oil in a non-stick frying pan. Add the onion and pepper and saute for 3 - 4 minutes on a medium heat until slightly soft.
2.
Add the garlic, spices, salt and pepper for 1 more minute.
3.
Add the aubergine ragu + tinned tomatoes, beans and lentils. Simmer for about 15 minutes on a low / medium heat until thick.
4.
Adjust seasoning and spices to taste and serve with toppings of choice and rice.
Tasty Tips
Feel free to crank up the heat if you're a hottie! Add some fresh chilli to taste.
Serve with vegan sour cream or coconut yoghurt for a vegan chilli alternative. Still delicious, trust us on this!