Turkey Pasta
SERVES 2
PREP TIME 10 minutes
COOK TIME 10 minutes
TOTAL TIME 20 minutes
FEATURED IN RECIPE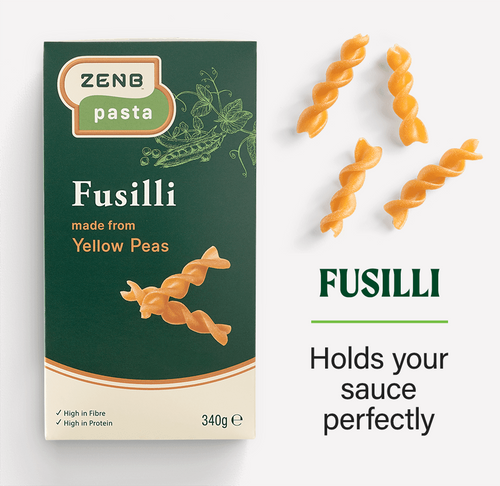 Fusilli Pasta
A delicious addition to your Christmas menu using our 100% Yellow Pea Fusilli - perfect for those turkey left overs! Created by @anna_janecka
INGREDIENTS
Pasta Salad Dressing
½ cup mayonnaise
½ cup Greek yogurt or sour cream
2  tablespoons apple cider vinegar
2  tablespoons honey
Salt & pepper to taste
Pasta Salad
1/2 pack of uncooked Fusilli ZENB pasta
2 cups diced or shredded turkey breast or chicken
1 cup dried cranberries
2  stalks celery thinly sliced
2 small oranges cut in pieces
½ cup chopped walnuts
INSTRUCTIONS
1.
In a medium saucepan, boil water, then salt well and add pasta. Cook to al dente according to package Instructions. Drain and rinse with cold water.
2.
In a medium bowl, whisk together mayonnaise, Greek yogurt, apple cider vinegar, honey and a pinch of salt and pepper. Set aside.
3.
In a large bowl, combine pasta, turkey, cranberries, onions, celery, oranges and walnuts. Pour dressing over the pasta salad and stir to coat completely.
4.
Chill until ready to serve.
Tasty Tips
Garnish with additional scallions or walnuts, if desired.