Tuna and Caper Linguine
SERVES 2
PREP TIME 3 minutes
COOK TIME 12
TOTAL TIME 15 minutes
NUTRITIONAL FACTS
Calories:
| | |
| --- | --- |
| Total Fat | g |
| Saturated Fat | g |
| Trans Fat | g |
| Cholesterol | mg |
| Salt | mg |
| Carbohydrates | g |
| Fibre | g |
* Nutrition information is estimated based on the ingredients and cooking instructions as described in each recipe and is intended to be used for informational purposes only. Please note that nutrition details may vary based on methods of preparation, origin and freshness of ingredients used.
FEATURED IN RECIPE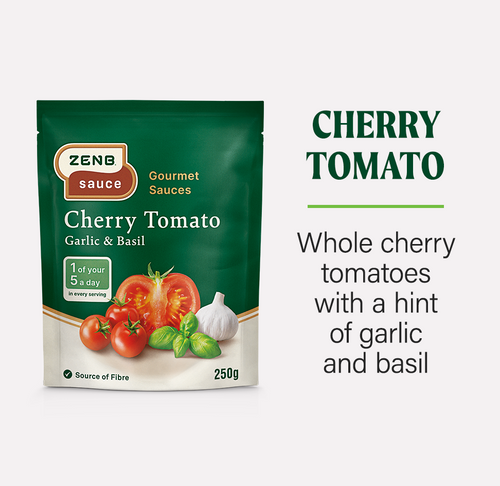 Cherry Tomato Gourmet Pasta Sauce
This tuna and caper linguine is a healthy quick dinner recipe that's on the table in just 15 minutes. Using ZENB's Tomato, Garlic and Basil Sauce, it's flavoursome and contains no added sugar. Paired with olives and capers for an umami hit and using fresh tuna, but feel free to use tinned if you prefer.
Brought to you by: @modernfoodstories
INGREDIENTS
1 pack ZENB Cherry Tomato, Garlic and Basil Gourmet Sauce
180g linguine (I used gluten free)
1 tbsp extra virgin olive oil
2 fresh tuna steaks (240g)
1 garlic clove, sliced
8 - 10 kalamata olives, pitted + torn
1 tbsp capers, drained
Salt + pepper to taste
Sprinkle of fresh basil, roughly chopped
INSTRUCTIONS
1.
Bring a large pan of salted water to the boil and cook the linguine as per the packet instructions.
2.
Meanwhile, season the tuna with salt and pepper on both sides. Add the olive oil to a non-stick frying pan. When hot, cook the tuna on a medium heat for about 2 minutes on each side or sear if you prefer. Set aside.
3.
To the same pan the tuna was in, add the garlic, olives and capers and cook on a me-dium heat for 1 minute.
4.
Add the ZENB Cherry Tomato, Garlic and Basil Gourmet Sauce. Transfer the pas-ta to the sauce and toss with tongs, heating until warmed through. Option to add 1 tbsp of pasta water if you like.
5.
Flake the tuna and toss through the sauce. Taste and adjust the seasoning to taste. Top with fresh basil and cracked black pepper.
Tasty Tips
Use fresh tuna for the best taste or good quality tinned tuna in olive oil. Drain the tuna if using from a tin.
Top with fresh basil for extra flavour and a drizzle of olive oil if you like.