Tomato Pasta Soup
SERVES 3
PREP TIME 5 minutes
COOK TIME 40 minutes
TOTAL TIME 45 minutes
FEATURED IN RECIPE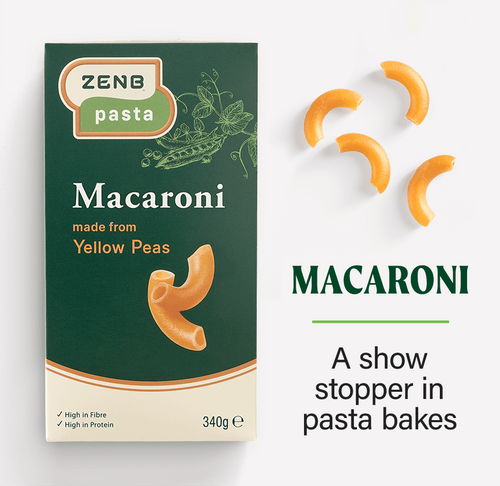 Macaroni Pasta
This hearty soup is great for lunch on a chilly day. The pasta makes it super satisfying and guarantees you'll stay full for a while. Created by @fortheutterloveoffood
INGREDIENTS
170g ZENB Yellow Pea Macaroni
1 Red onion, peeled and roughly chopped
4 Large garlic cloves, peeled
1 tbsp Olive oil
800g Good quality canned chopped tomatoes
2 tbsp Tomato puree
1 tbsp Oregano
½ tsp Chilli flakes
500ml Vegetable stock
Small handful of fresh basil
Large handful of spinach
Salt & pepper to season
Garnish
Fresh basil
Pumpkin seeds
Dairy free plain yoghurt
Chilli flakes
INSTRUCTIONS
1.
Preheat on oven to 180oc. To a large roasting tin add the red onion, garlic cloves, olive oil, salt, and pepper. Roast for 20 minutes.
2.
After 20 minutes add the tomatoes, tomato puree, oregano and chilli flakes and vegetable stock to the roasting tin. Continue to roast for 20 minutes.
3.
Once the tomato soup has started to reduce and thicken a little, remove from the oven, add a small handful of fresh basil and blend until silky smooth.
4.
Cook your ZENB Macaroni according to packet instructions. Stir into the tomato soup with a large handful of spinach. Heat through on a low heat (if needed) until the spinach is wilted.
5.
Pour into bowls and garnish with dairy free plain yoghurt, fresh basil, and chilli flakes
Tasty Tips
Use the best quality chopped tomatoes you can find as it really makes a difference to the flavour of the soup