Tempeh Bolognaise
SERVES 6
PREP TIME 5 minutes
COOK TIME 45 minutes
TOTAL TIME 50 minutes
FEATURED IN RECIPE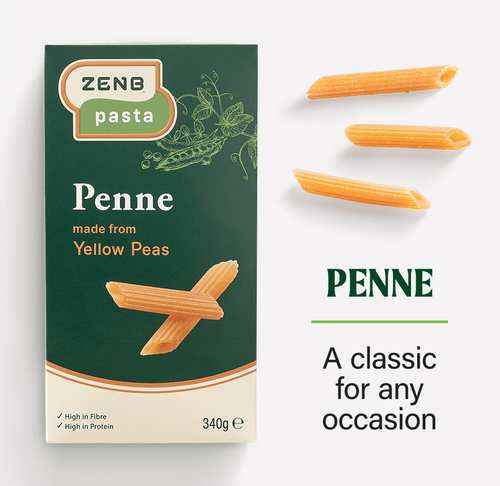 Penne Pasta
A plant-based alternative to the traditional pasta bolognaise that is naturally high in protein from the tempeh. This tempeh bolognaise is a great opportunity to still enjoy one of your favourite meals whilst also making the choice to eat meat free. Created by @Fortheutterloveoffood
INGREDIENTS
420g ZENB penne pasta
200g Tempeh
2 Red onions, peeled and quartered
2 Medium carrots, washed and roughly chopped into chunks
2 Celery sticks, washed and roughly chopped into chunks
250g Chestnut mushrooms, washed and brushed
6 Garlic cloves, peeled
1 Can chopped tomatoes
2 tbsp Tomato puree
1 tbsp Oregano
1 Vegetable stock cube
1 tbsp Olive oil
2 tsp Marmite or other yeast extract
INSTRUCTIONS
1.
Add the celery, garlic, carrot and onion to a food processor and pulse until you get a finely chopped consistency.
2.
Heat a large pan on a medium – high heat with a tbsp of olive oil. Add the vegetables from the food processor and cook for 8 – 10 minutes until they start to soften.
3.
Meanwhile, add the mushrooms to the food processor and pulse until you get the same consistency.
4.
Transfer the mushrooms to the pan once the other vegetables have softened and stir to combine. Cook the celery, garlic, carrot, onion and mushroom mixture for a further 5 minutes until everything is soft and starting to caramelise. Stir throughout to avoid anything burning.
5.
Add the tempeh block to the food processor and blitz until you get a mince like consistency.
6.
To the existing pan add the minced tempeh, stir to combine and cook for a further 5 minutes.
7.
After this time add to the pan the oregano, tomato puree, chopped tomatoes, crumbled vegetable stock cube and Marmite. Stir well, bring to the boil and then leave to simmer for 20 – 25 minutes on a low heat. If at any point the sauce becomes too thick, add a few splashes of water to loosen.
8.
Check the seasoning and add salt and pepper as necessary. Meanwhile cook your ZENB penne pasta according to packet instructions.
9.
Once everything is cooked, serve the pasta with the sauce and top with a sprinkle of chilli flakes (if you like extra heat), vegan cheese or even toasted breadcrumbs.
Tasty Tips
This bolognaise tastes even better the following day if you leave it to sit in the fridge overnight.