Swift stir fry with winter roots and a Tamari butter sauce
SERVES 2
PREP TIME 5 minutes
TOTAL TIME 5 minutes
FEATURED IN RECIPE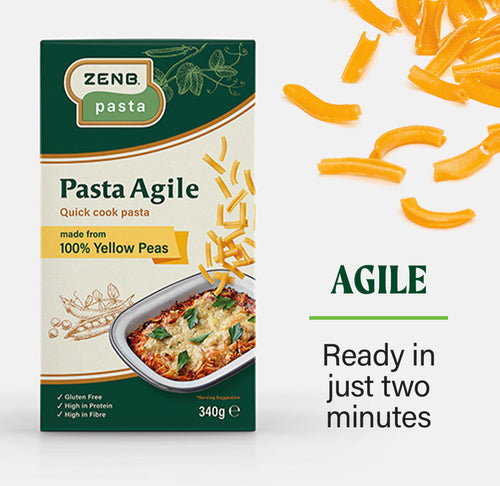 Quick Cook Pasta Agile
This quick stir fry is filled with flavour from an infused ginger butter and packed with vegetables. You can really use any vegetables here, making sure you have a variety of bold colours. The key to good gut health is variety and it is a good idea to have at least 30 different plants a week, so use this recipe as your opportunity to increase the biodiversity in your cooking, celebrate colour and cook it simply and quickly with this recipe.
The perfect mid week meal brought to you by: @Lauren_Lovatt
INGREDIENTS
15g (2 tbsp) plant based Butter
1 fresh chilli, seeds and stalk removed and finely chopped
1 inch ginger, grated
1 clove garlic, peeled and chopped
50g kale washed and with the leaves stripped from the stems and the stem finely chopped
100g carrot, washed peeled and made into ribbons
100g parsnip, , washed peeled and made into ribbons
50g leek, washed, topped and tailed and then cut from root to shoot in long thin strips
50g ZENB Pasta Agile
50ml water
3 tbsp tamari
INSTRUCTIONS
1.
Heat a wok with the butter on a medium heat and add the chilli and ginger to release their aroma, cook for one minute.
2.
Add the rest of the vegetables to the Wok and cook for 2-3 minutes to colour and soften them then add the pasta with the water and tamarind and cook until the pasta is fast and the liquid is gone.
3.
Serve on two plates, piping hot
Tasty Tips
Feel free to add a coriander garnish, tastes great and looks great!