Spinach-Basil Pesto with ZENB Penne Pasta
SERVES 4
PREP TIME 15 minutes
COOK TIME 15 minutes
TOTAL TIME 30 minutes
NUTRITIONAL FACTS
Serving Size: 348.51g

Calories: 522
| | |
| --- | --- |
| Total Fat | 24g |
| Saturated Fat | 3.3g |
| Salt | 2mg |
| Carbohydrates | 47g |
| Fibre | 12g |
| Protein | 25.5g |
* Nutrition information is estimated based on the ingredients and cooking instructions as described in each recipe and is intended to be used for informational purposes only. Please note that nutrition details may vary based on methods of preparation, origin and freshness of ingredients used.
FEATURED IN RECIPE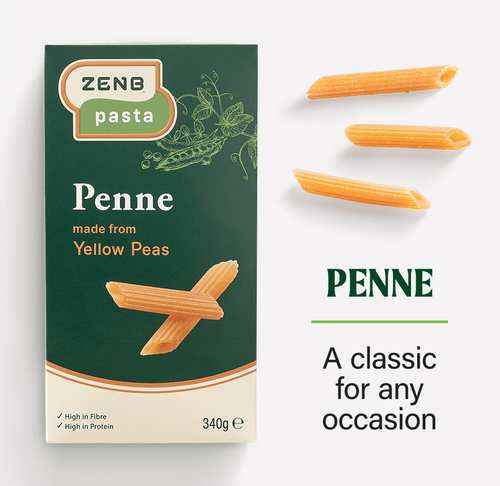 Penne Pasta
Pesto is a go-to for many when looking for a sauce to pair with their pasta. This ZENB Penne Pasta recipe uses spinach, basil, pine nuts, and more to deliver a delicious homemade pesto pasta. Make sure to toast the pine nuts to improve the texture and flavour of the pesto.
INGREDIENTS
1 box (340g) ZENB Penne Pasta made from 100% Yellow Peas, uncooked
256g loosely packed baby spinach
256g loosely packed fresh basil leaves
3 cloves garlic
32g grated Parmesan cheese
32g toasted pine nuts
1 tablespoon fresh lemon juice
1 teaspoon salt
60ml extra virgin olive oil
INSTRUCTIONS
1.
Cook ZENB Pasta as directed on package. Reserve 1 cup pasta water. Drain; keep warm.
2.
Meanwhile, add spinach, basil and garlic to work bowl of food processor. Pulse 5-10 sec. until coarsely chopped. Add Parmesan, pine nuts, lemon juice and salt. Pulse 5-10 sec. to form thick paste. Process 10-20 sec. while adding oil through feed tube until smooth.
3.
Combine pasta and pesto in large serving bowl. Add reserved pasta water, 1/4 cup at a time, until well coated.
Tasty Tips
Toasting nuts improves the texture and flavor dramatically, and adds more flavour to a dish.