Spinach Agile Carbonara
SERVES 4
PREP TIME 10 minutes
COOK TIME 10 minutes
TOTAL TIME 20 minutes
FEATURED IN RECIPE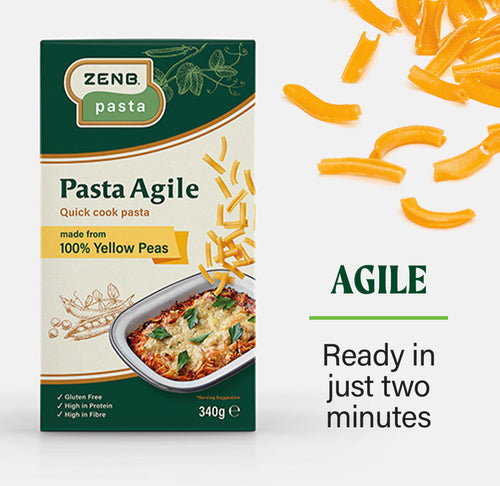 Quick Cook Pasta Agile
Elevate your carbonara with new ZENB Pasta Agile paired with carbonara sauce and fresh spinach. Adding a cream makes this carbonara that extra bit, well, creamy. And who could resist such temptation? Ready in just 20 minutes, it's sure to go down a treat. Pair this with a glass of white wine or kombucha.
Brought to you by: @anna_janecka
INGREDIENTS
1 box ZENB Pasta Agile
200g spinach
1 medium onion
75g smoked bacon
2 eggs
200ml cream
1tblsp olive of oil
Salt and pepper
Parmigiano based on individual needs
INSTRUCTIONS
1.
Chop onions and bacon.
2.
Crack the egg into a bowl, add the cream, then mix well.
3.
Add chopped onions and bacon to a large frying pan and sauté over medium-low heat until browned and crisp, around 5-7 minutes.
4.
Once soft add fresh spinach.
Then add the egg and cream mixture.
5.
Add cooked pasta (based on directions from the box) tossing vigorously so the sauce clings to the pasta and doesn't settle on the base of the pan.
6.
Finish with freshly grated Parmigiano Reggiano and a good grind of black pepper.
Tasty Tips
Be careful not to overcook the egg mixture. While scrambled eggs are great for brunch, they're not what we're after here.