Spicy Black Bean Burgers
SERVES 4
PREP TIME 15 minutes
COOK TIME 8 minutes
TOTAL TIME 25 minutes
FEATURED IN RECIPE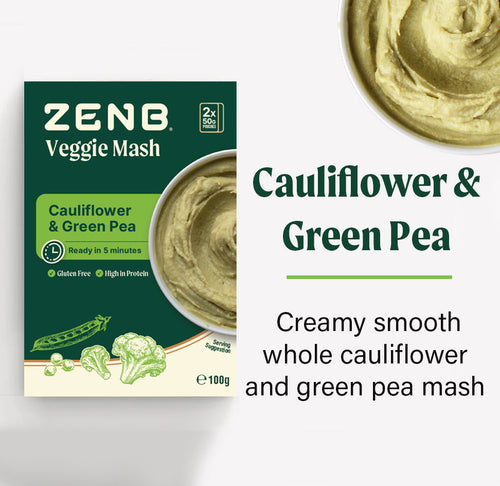 Cauliflower & Green Pea Veggie Mash
Check out our first ZENB recipe that is air fryer ready in just 4 mins!
Our protein packed green pea and cauliflower veggie mash is the perfect base to make these delicious spicy beanburgers, a win for when you are feeling extra hungry after a mid-week gym session.
Complete with mild light white sauce, we are sure you will be coming back to this recipe again and again!
INGREDIENTS
1 x 50g pouch ZENB Green Pea and Cauliflower veggie mash
200ml milk of your choice
1 red chilli
1 bunch spring onions, trimmed
400g can black beans, drained
10g fresh coriander, finely chopped
2tsp smoked paprika
75g breadcrumbs
25g sesame seeds
2tbsp vegetable oil
100ml Greek yoghurt
15g flat leaf parsley, finely chopped
1 large gherkin, finely chopped
juice 1/2 lemon
4 seeded burger buns
2 tomatoes, sliced
6 radishes, sliced thinly
15g rocket leaves
INSTRUCTIONS
1.
Place the milk in a small saucepan and add the veggie mash pouch and whisk well.
Bring to the boil stirring regularly for 30 seconds until thickened. Remove from the heat and leave to cool.
2.
Place the chilli, spring onions and half the black beans in a food processor and process until you have a coarse paste.
Tip into a bowl and add the remaining beans and mash together with a fork. Stir in the coriander and the paprika and mix well.
3.
Add the ZENB Green Pea and Cauliflower veggie mash and mix until you have a firm bean mixture.
4.
Shape into 4 burger patties about 4cm thick and place in the fridge to chill for about 30 minutes.
5.
Mix the breadcrumbs and sesame seeds together and press the patties into the mixture.
6.
Heat the vegetable oil in a frying pan and cook the burgers for 3 – 4 minutes each side until golden and crispy or place in an air fryer and cook for 3 - 4 minutes until golden.
7.
Mix the flat leaf parsley and chopped gherkins with the lemon juice and yoghurt.
Spread on the base of toasted burger buns and top with sliced tomatoes.
Place the burger on top with the radish and rocket leaves and serve.
Tasty Tips
Add a little less liquid to the mash mixture for a perfect bean base.