Spicy Amalfi-Style Salmon with Saffron & ZENB Fusilli
SERVES 4
PREP TIME 10 minutes
COOK TIME 15 minutes
TOTAL TIME 25 minutes
NUTRITIONAL FACTS
Serving Size: 655g

Calories: 647
| | |
| --- | --- |
| Total Fat | 14g |
| Saturated Fat | 1.9g |
| Salt | 2.1mg |
| Carbohydrates | 59g |
| Fibre | 16g |
| Protein | 47g |
* Nutrition information is estimated based on the ingredients and cooking instructions as described in each recipe and is intended to be used for informational purposes only. Please note that nutrition details may vary based on methods of preparation, origin and freshness of ingredients used.
FEATURED IN RECIPE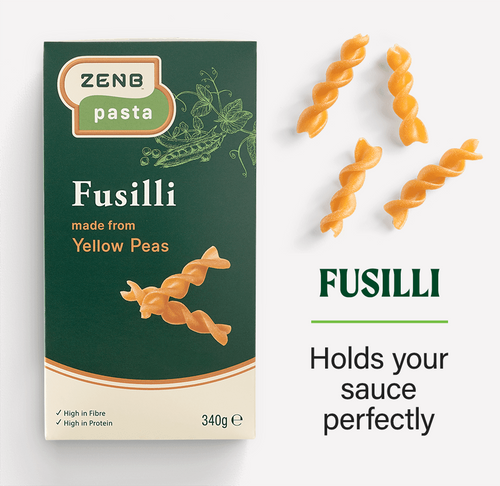 Fusilli Pasta
Bring some extra spice and flavour into your pasta dinner with this Spicy Amalfi-Style Salmon with Saffron and ZENB Fusilli. This recipe uses the unique spice Saffron, which adds a subtle honey-like floral aroma and a vibrant yellow-orange hue. This dish is perfect for salmon and pasta lovers looking for a low calorie, low fat, and good source of protein without sacrificing the taste appeal.
Recipe by Chef Erling Wu-Bower
INGREDIENTS
• 1 box (340g) ZENB Rotini Pasta made from 100% Yellow Peas, uncooked
• 1/4 teaspoon saffron threads
• 1 tablespoon olive oil
• 1 small red onion, cut into thin slivers
• 3 cloves garlic, sliced
• 1-2 red Fresno chiles, stemmed, finely chopped
• 1/2 teaspoon each salt & ground black pepper
• 237ml white wine
• 793g crushed San Marzano tomatoes
• 453g boneless salmon filet, cut into bite-size pieces
• 1 small lemon, zested, juiced
• 200g coarsely chopped Italian parsley
INSTRUCTIONS
1.
Cook ZENB Pasta as directed on package. Reserve 125ml pasta cooking water in small bowl; add saffron. Drain.
2.
Meanwhile, heat oil in large skillet on medium-high heat. Add onion, garlic, chiles, salt & pepper; cook 3-4 min. stirring frequently until translucent. Add wine; cook 3-4 min. or until liquid is reduced by half.
3.
Reduce heat to medium; add tomatoes and saffron water. Bring mixture to a simmer; add salmon. Cook 1-2 min. until opaque. Stir in pasta, zest, juice and parsley; mix gently 1-2 min. until heated through.
Tasty Tips
Fresno chiles are small and fruity with a sharp kick of heat. They are usually available from summer through early fall. When they aren't available, jalapeño peppers make a great substitute.
Saffron, the most expensive spice in the world, is the hand-picked stamen of the purple crocus flower. A little saffron goes a long way, adding a subtle honey-like floral aroma and a vibrant yellow-orange hue. Blooming the threads in some liquid before adding to a dish draws the most out of the saffron.
Substitute firm white fish like halibut, cod, or fresh mussels for the salmon.