Spaghetti al Tonno
SERVES 2
PREP TIME 5 minutes
COOK TIME 20 minutes
TOTAL TIME 25 minutes
FEATURED IN RECIPE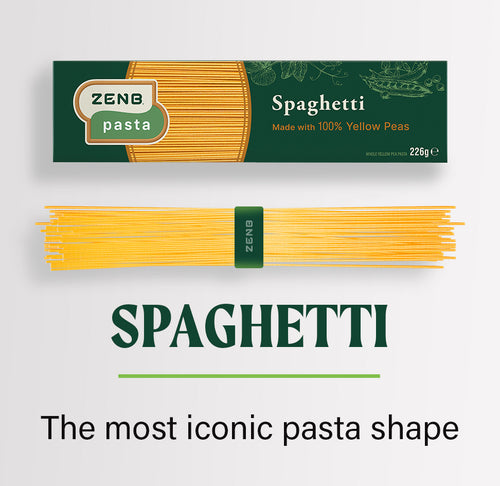 Spaghetti
A deliciously wholesome tuna dish using ZENB Spaghetti. It's my interpretation of Spaghetti al Tonno, using roasted cherry tomatoes to keep the sauce deliciously light and fresh. With a squeeze of lemon and a sprinkling of fresh parsley and capers, this makes a tasty and summery meal.
Brought to you by: @emmafosterfood
INGREDIENTS
1 box ZENB Spaghetti
2 tins of Tuna in oil
2 cloves garlic
½ lemon (juice and zest)
2tbsp capers
10 cherry tomatoes
3tbsp olive oil
Handful of parsley
1tbsp red chilli flakes
INSTRUCTIONS
1.
Preheat the oven to 180c. Bring a saucepan of water to the boil.
2.
Add the tomatoes to an ovenproof dish with 1tbsp of olive oil and roast for 15-20 minutes.
3.
Finely chop the garlic cloves and add them to the drained tuna with 1tbsp of olive oil. Cook the pasta, as instructed until al dente.
4.
In a pan over a medium heat, add 1tbsp olive oil and gently warm the tuna and garlic mixture for a couple of minutes. Finely chop the parsley and zest the lemon.
5.
Into the tuna pan, add the Spaghetti and half of the pasta water. Then squeeze in the lemon juice and add the capers, chilli flakes and parsley.
6.
Stir well until silky and all of the pasta is coated. Plate up and top with cherry tomatoes and the zest of the lemon.
Tasty Tips
When plating up, add a couple of extra capers and a fresh sprinkling of parsley for a fancy finish.