Spaghetti Aglio E Olio
PREP TIME 4 minutes
COOK TIME 11 minutes
TOTAL TIME 15 minutes
FEATURED IN RECIPE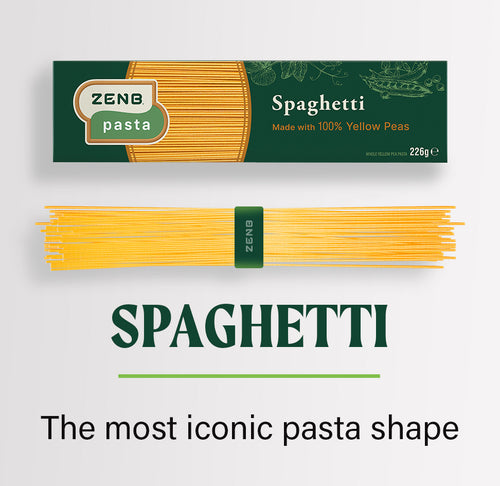 Spaghetti
All the flavours of the classic Spaghetti Aglio E Olio but pimped up! Adding slices of crisped up parma ham adds the best flavour and throwing in a handful of edamame, peas or broad beans helps pack in more veggies, fibre and also makes it super pretty if serving for loved ones.
Brought to you by: @modernfoodstories
INGREDIENTS
226g ZENB spaghetti
50g parma ham slices
1/2 cup frozen edamame, peas or broad beans
80ml extra virgin olive oil
3 garlic cloves, minced
1 fresh chilli, diced (20g)
1/2 cup parsley, finely chopped (25g)
Salt + pepper to taste
INSTRUCTIONS
1.
Preheat the oven to 180 fan / 200C.
2.
Add ZENB Spaghetti to a pan of boiling water and cook for 7 - 8 minutes until al-dente. Drain and toss with a little olive oil.
3.
Add the parma ham in a single layer to a baking tray lined with greaseproof paper. Bake in the oven for 8 - 10 minutes, turning once until crisp to your liking.
4.
Place the frozen edamame, peas or broad beans in a cup filled with boiling water and allow to defrost for 3 - 5 minutes.
5.
Add the olive oil, garlic + chilli to a non-stick frying pan and cook on medium / low for 1 minute until fragrant. Add parsley. Toss through the pasta. Add edamame and parma ham to warm through and turn off the heat.
6.
Serve in bowls with fresh cracked black pepper.
Tasty Tips
Crisp the parma ham in the oven for the best texture.
Use good quality olive oil and fresh chill if possible. If you don't have fresh chilli you can use dried chilli flakes.
For a traditional Spaghetti Aglio e Olio, leave out the edamame and parma ham. I like to add them to add more veggies and the parma ham adds great flavour.