Smoked Salmon Pasta with Lemon + Dill
SERVES 2
PREP TIME 10 minutes
COOK TIME 5 minutes
TOTAL TIME 15 minutes
FEATURED IN RECIPE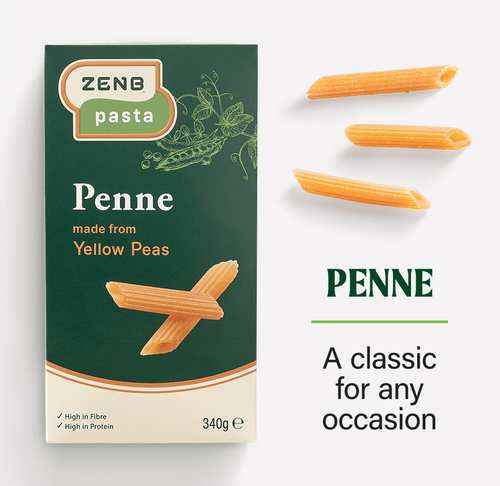 Penne Pasta
Bring the restaurant home with this refreshing salmon dish, seasoned with lemon & dill. Recipe created by @modernfoodstories
INGREDIENTS
170g ZENB Penne Pasta
35g mange tout or sugar snap peas, sliced into thin strips lengthways
125g cream cheese, creme fraiche or (chive) vegan cream cheese
Juice of 1/2 lemon + zest + wedges to serve
1 tsp dijon or wholegrain mustard
Salt and pepper to taste
1 tbsp mini capers, drained
100g smoked salmon, sliced into thin strips
6g fresh dill, finely chopped
Optional chives if not in cream cheese
Optional 1 small garlic clove, minced
INSTRUCTIONS
1.
Boil the ZENB Penne Pasta for about 10 minutes until al-dente. Just before the pasta is ready, blanch the mange tout for 30 seconds in the pasta water. Drain both together and rinse.
2.
Squeeze the juice from 1/2 a lemon into the cream cheese. Add mustard and season with salt and pepper. Whisk to combine.
3.
Toss pasta, capers, smoked salmon and dill together with the cream cheese mix until fully coated. Top with lemon zest and more black pepper. Option to drizzle with olive oil to serve.
Tasty Tips
If using garlic, it's best to either fry in a little olive oil for 1 minute to take the rawness off the garlic or use 1 clove of crushed garlic confit
If serving the pasta at a later date you may wish to add a little water to soften up the sauce again with a drizzle of olive oil