Shepherd(less) Pie
SERVES 2
PREP TIME 10 minutes
COOK TIME 20 minutes
TOTAL TIME 30 minutes
FEATURED IN RECIPE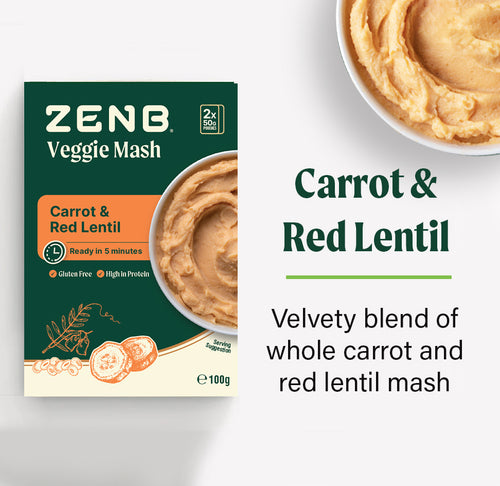 Carrot and Red Lentil Veggie Mash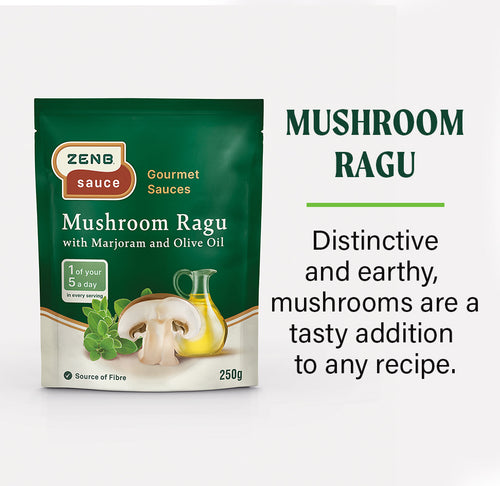 Mushroom Ragu
The Ultimate comfort food filled with healthy ingredients to make you feel good too! Our Shepherd(less) pie is a one tray meal that you can enjoy time and time again. In this recipe you have autumnal ingredients like beetroot and walnuts made into a delicious mince and topped with our ZENB carrot and lentil mash.
Whether you are cooking for one or cooking for four this is a super easy recipe to prepare that can be kept in the fridge for four days.
INGREDIENTS
1 sachet ZENB Carrot and Lentil mash prepared as per the packet instructions
1 packet ZENB mushroom ragu
½ tsp cayenne pepper
Freshly cracked black pepper
½ tsp Sea salt
Walnut and mushroom mince
200g brown or button mushrooms, roughly chopped
100g walnuts, soaked for 10 minutes in boiling water
200g beetroot, washed and peeled
50g spinach, washed
INSTRUCTIONS
1.
Preheat the oven to 180 degrees Celsius.
2.
Add the mushrooms to a food processor a lightly process to break up the mushrooms into coarse pieces, transfer to a bowl.
3.
Rinse the soaked walnuts and add them to a food processor and process into coarse pieces and then add them to the bowl with the mushrooms.
4.
Add the beetroot to a food processor a lightly process to break up the mushrooms into coarse pieces, add them to the bowl with the mushrooms, stir to combine.
5.
Heat a frying pan with the olive oil and, once hot, add the mushroom, walnut and beetroot mixture.
Cook for 10 minutes until the mushrooms and beetroots are cooked through and slightly soft.
6.
Add the ZENB mushroom ragout sauce and warm through for 2-3 minutes and then add the spinach and cook for a further minute or until the spinach is wilted.
Add this mixture to the ovenproof dish.
7.
Cook the ZENB Carrot and lentil mash as per the packet instructions add the chilli, salt and pepper as per the recipe.
8.
Carefully spoon the mash on top of the mushroom and walnut mice mixture making sure the top is covered.
9.
Drizzle the mash with a little olive oil and bake in the oven for 20 minutes until the top is golden.
Serve with extra greens, vegetables or a salad and enjoy hot!
Tasty Tips
An ideal winter recipe using beetroot you can also make this recipe with different root vegetables such as carrots or parsnips for an equally meaty end result.
For this recipe you will need an oven props dish that is at least 2 inches deep and either a 2-x 20 square or a 20cm rectangular deeper dish.