Sesame Noodle Salad Bowl
SERVES 2
PREP TIME 15 minutes
COOK TIME 10 minutes
TOTAL TIME 25 minutes
FEATURED IN RECIPE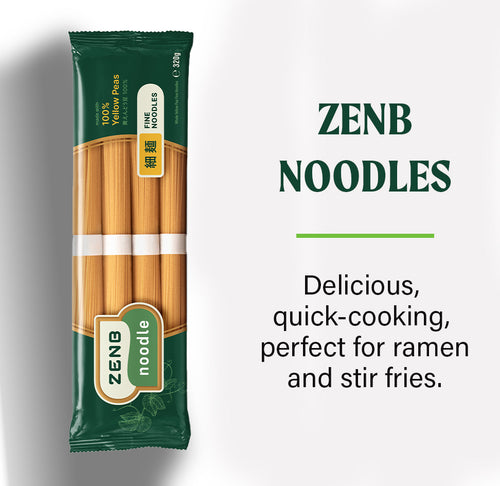 Noodles
ZENB noodles are perfect served cold in this tasty salad.
The cooked noodles are dressed in a delicious mixture of ginger, garlic, maple and Tamari and the addition of black and white sesame seeds for crunch.
Serve with crunchy vegetables such as sugar snap peas and edamame and slices of avocado.
It's the perfect lunch and can be changed to whatever vegetables you have to hand or even add a little roast chicken or cooked salmon.
INGREDIENTS
2 x 80g bundles of ZENB noodles
2.5cm piece fresh ginger
1 clove of garlic
2tbsp maple syrup
2tbsp rice vinegar
1tbsp Tamari
1 tbsp sesame oil
5g sesame seeds, toasted (black and white)
100g Edamame beans
100g sugar snap peas
100g radish, sliced thinly
1 avocado, peeled, stone removed and sliced thinly
1 small red chilli, thinly sliced
1 spring onion, thinly sliced
INSTRUCTIONS
1.
Bring a medium saucepan of water to the boil and add the noodles.
Stir well and then turn off the heat and leave to stand for 4 minutes until tender but not falling apart. Drain well and set aside.
2.
Place a small pan of water on the hob and heat until boiling.
Add the sugar snap peas and cook for 3 minutes then add the edamame beans and cook for a further minute.
Drain and set aside.
3.
To make the dressing grate the ginger and garlic into a bowl and add the maple syrup, rice vinegar, Tamari and sesame oil and whisk together.
Drain the noodles and return to the bowl and add half of the dressing and toss well with some of the sesame seeds.
Divide between two serving bowls.
4.
Arrange the edamame beans on top of the noodles along with the sugar snap peas, radish slices and avocado.
Spoon over the remaining dressing and sesame seeds and serve sprinkled with the chilli and spring onion.
Tasty Tips
Tamari is slightly thicker than soy sauce and adds more flavour and body to a dressing or sauce, but soy sauce will work as a great substitute.
As Tamari is made without wheat it is a great gluten free substitute for soy sauce.