Sesame Agile Carbonara
SERVES 2
PREP TIME 5 minutes
COOK TIME 5 minutes
TOTAL TIME 10 minutes
FEATURED IN RECIPE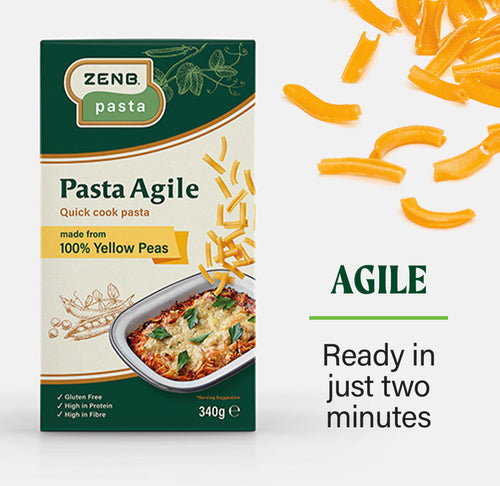 Quick Cook Pasta Agile
This Carbonara is a favourite in the ZENB team. It is the quickest possible carbonara and entirely plant based and gluten free! The secret here is a smoky sesame sauce which is entirely raw - made by mixing tahini with water and seasonings and then drenching the pasta in the sauce.
Like all of our recipes we prioritize whole vegetables so here there are extra greens and mushrooms to make it even more interesting. Last but not least the most moorish coconut topping to add an element of crunch! This smoky coconut is also a great snack and salad topping you can enjoy in many different dishes.
Brought to you by: @Lauren_Lovatt
INGREDIENTS
Sesame Sauce
50g Dark Tahini
100ml water
25ml olive oil
1 tsp smoked water (optional)
1/2 tsp smoked salt
Smoked Coconut
50g coconut chips
1 tbsp olive oil
1/2 tsp smoked paprika
1/2 tsp tamari
1/2 tsp maple syrup
1/4 tsp chili flakes
Pasta
2 tbsp olive oil
1 shallot, peeled and finely diced
100g field mushrooms, finely sliced
25g mixed seasonal greens
100g ZENB Pasta Agile
100ml water
1/4 tsp freshly cracked black pepper
INSTRUCTIONS
1.
Add the sesame sauce ingredients to a small bowl and mix them together until you have a smooth sauce.
2.
Heat a small frying pan on a low heat.
Add the coconut chips and the remaining ingredients and mix them together in the pan.
Cook until lightly toasted and crisp.
3.
Heat another larger frying pan on a medium heat with the olive oil.
4.
Add the mushrooms and shallots with a pinch of salt and cook until both are nicely cooked through and golden.
5.
Add the greens, pasta and water and cook for 2-3 minutes until the pasta is soft.
6.
Add the sesame sauce and fold it through the pasta while the pan is still on the heat.
Tasty Tips
Serve in two bowls with a sprinkle of coconut chips.