Sausage & Peppers Penne
SERVES 4
PREP TIME 15 minutes
COOK TIME 30 minutes
TOTAL TIME 45 minutes
NUTRITIONAL FACTS
Serving Size: 692g

Calories: 654
| | |
| --- | --- |
| Total Fat | 22g |
| Saturated Fat | 5.8g |
| Salt | 2.6mg |
| Carbohydrates | 57g |
| Fibre | 15g |
| Protein | 43g |
* Nutrition information is estimated based on the ingredients and cooking instructions as described in each recipe and is intended to be used for informational purposes only. Please note that nutrition details may vary based on methods of preparation, origin and freshness of ingredients used.
FEATURED IN RECIPE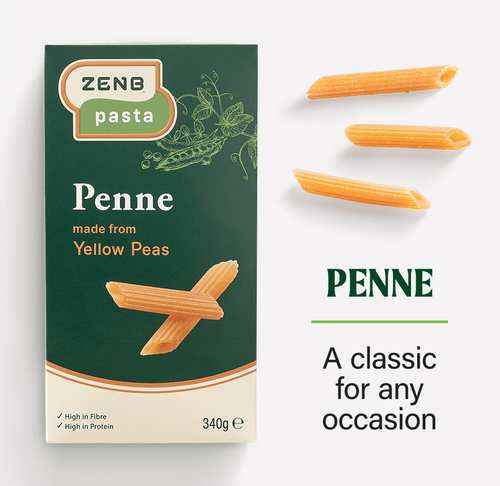 Penne Pasta
Proving protein and low in calories, this delicious ZENB Penne Pasta dish may be your new go-to. Combining the flavour of sweet Italian chicken sausage with a variety of veggies and seasoning, this mouth watering recipe is a great way to enjoy ZENB Pasta.
INGREDIENTS
1 box (340g) ZENB Penne Pasta made from 100% Yellow Peas, uncooked
1 tablespoon olive oil
450g 1 small red onion, thinly sliced
1 large red pepper, cut into thin strips
1 large green pepper, cut into thin strips
4 large tomatoes, seeded, chopped
2 tablespoons tomato paste
4 cloves garlic, minced
1 teaspoon Italian seasoning
1/2 teaspoon crushed red pepper flakes
118ml low sodium chicken broth
2 tablespoons thinly sliced basil
1 tablespoon grated Parmesan cheese
INSTRUCTIONS
1.
Cook ZENB Pasta as directed on package. Reserve 125ml pasta cooking water; drain.
2.
Meanwhile, heat olive oil in large heavy skillet on medium-high heat. Add sausage links to skillet. Cook 8-10 min. turning frequently until golden brown and cooked through. Transfer sausage to clean plate; cool. Cut into 1/2-inch thick slices.
3.
Add onion and peppers to same skillet. Cook 7-8 min. Until vegetables are tender-crisp. Add tomatoes, tomato paste, garlic, Italian seasoning and red pepper flakes. Cook 2 min., stirring frequently, until combined. Stir in reserved pasta water and broth; bring mixture to a simmer.
4.
Add pasta and sausage; cook 2-3 min., until heated through. Serve garnished with basil and Parmesan cheese.
Tasty Tips
Stir in 1 cup shredded mozzarella cheese with the pasta for an extra cheesy dish.