Roasted Mediterranean Veggies with ZENB Penne Pasta
SERVES 6
PREP TIME 10 minutes
COOK TIME 30 minutes
TOTAL TIME 40 minutes
NUTRITIONAL FACTS
Serving Size: 288g

Calories: 314
| | |
| --- | --- |
| Total Fat | 10g |
| Saturated Fat | 1.5g |
| Salt | 1.1mg |
| Carbohydrates | 35g |
| Fibre | 9g |
| Protein | 15g |
* Nutrition information is estimated based on the ingredients and cooking instructions as described in each recipe and is intended to be used for informational purposes only. Please note that nutrition details may vary based on methods of preparation, origin and freshness of ingredients used.
FEATURED IN RECIPE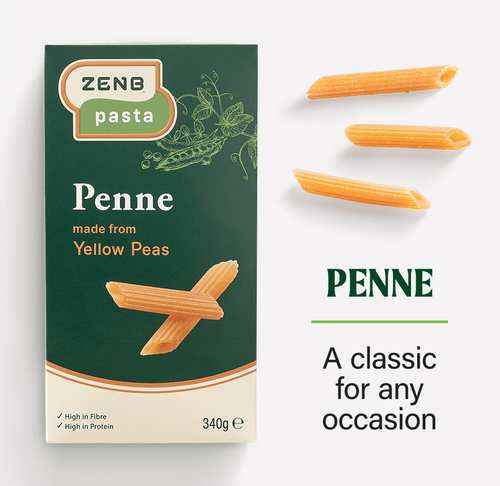 Penne Pasta
This ZENB Penne Pasta recipe combines a variety of vegetables and spices to a make a delicious dish. This ZENB Pasta dish can be served warm right after cooking or be enjoyed as a cold pasta salad.
INGREDIENTS
• 1 box (340g) ZENB Penne Pasta made from 100% Yellow Peas
• 2 red peppers, chopped
• 1 red onion, chopped
• 1 large courgette, halved lengthwise, cut into ½-inch thick slices
• 3 tablespoons olive oil, divided
• 1 teaspoon sea salt
• 1/2 teaspoon ground black pepper
• 1/2 teaspoon dried oregano
• 1/4 - 1/2 teaspoon crushed red pepper flakes
• 2 tablespoons red wine vinegar
• 1/4 cup chopped parsley
• 4 tablespoons grated parmesan cheese, divided
INSTRUCTIONS
1.
Preheat oven to 220c. Place peppers, onion and courgette on baking sheet. Drizzle 2 tablespoons of olive oil, then add the salt, black pepper, oregano and red pepper flakes. Mix gently to combine. Bake for 20-25 min, or until tender.
2.
Meanwhile, cook ZENB Penne Pasta as directed on box. Drain; return to pot. Stir in roasted vegetables, remaining oil, vinegar, parsley and 3 tablespoons of parmesan to pasta.
3.
Serve immediately garnished with remaining cheese.
Tasty Tips
This dish is also great as a cold pasta salad.