Rice and mince stuffed peppers
SERVES 2
PREP TIME 10 minutes
COOK TIME 35 minutes
TOTAL TIME 45 minutes
FEATURED IN RECIPE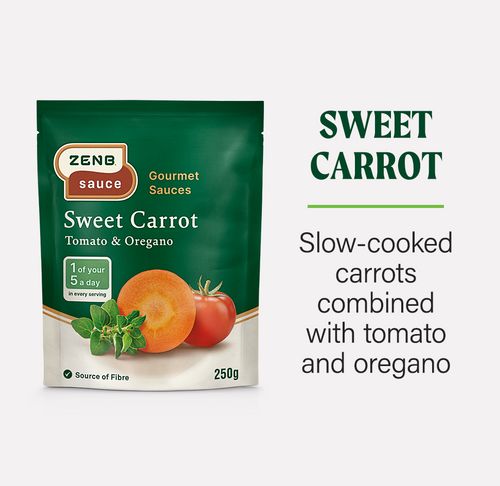 Sweet Carrot Gourmet Pasta Sauce
You can't go wrong with a good old stuffed pepper! Save the chopped tomatoes for another recipe, throw in ZENB Sweet Carrot & Tomato Sauce and you've got yourself a flavoursome take on the classic dish. A fun recipe for the whole family or dinner for two, created by content creator, @wildwindwanders.
INGREDIENTS
250g ZENB Sweet Carrot & Tomato Sauce
4 bell peppers
120g arborio rice
250g minced beef
1 garlic clove
20g grated parmesan
Extra virgin olive oil
Salt & pepper
INSTRUCTIONS
1.
Cut the top of the peppers, remove all the seeds and rinse. Brush with some olive oil and cook in the oven for 20 minutes at 170 degrees.
2.
Add some olive oil and a garlic clove to a frying pan and fry until golden. Remove it and add the mince. Cook for 5 minutes or until the juices are reduced and then add salt and pepper to taste. Add ZENB Sweet Carrot & Tomato Sauce and cook for 5 to 10 minutes.
3.
In the meantime, bring some water to the boil, add some salt and then cook the rice until al dente. Strain it and add it to the mince. Add the parmesan and mix everything together.
4.
Fill the peppers with the mixture and then put them in the oven again and cook for 15 minutes or until the peppers start to have black spots. Let them rest for 5 minutes and then serve.
Tasty Tips
This can easily be made vegetarian by swapping out the beef for Quorn mince!