Quick Cook Pasta Al Tartufo
SERVES 2
PREP TIME 5 minutes
COOK TIME 5 minutes
TOTAL TIME 10 minutes
FEATURED IN RECIPE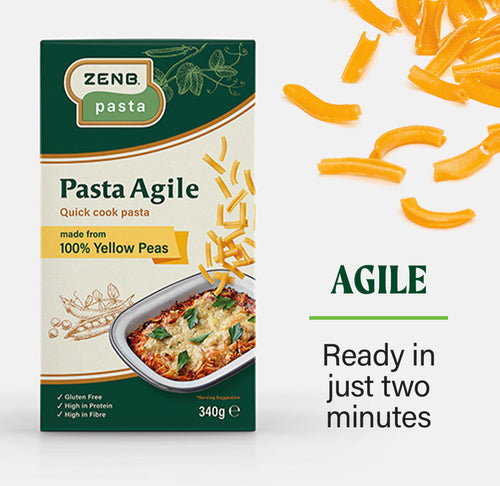 Quick Cook Pasta Agile
This Quick Cook Truffle Pasta is a delicious treat for a special occasion. The wonderful earthy flavour of black truffle paired with butter, parmesan, fresh herbs and ZENB's Pasta Agile, it's quick cook, no draining required and made all in one pan. Made with just a handful of ingredients and ready in under 15 minutes.
Brought to you by: @modernfoodstories
INGREDIENTS
160g ZENB Pasta Agile
40g unsalted butter, soft
1 garlic clove, minced
1 tsp grated truffle + 6 fine slices (6g)
100g chanterelle or wild mushrooms of choice
250 - 300ml stock
60g parmesan, shredded
1/2 tsp fresh thyme
1 - 2 tbsp fresh parsley
Salt and pepper to taste
INSTRUCTIONS
1.
Grate 1 tsp of black truffle using a fine grater.
2.
Mix the grated truffle with the soft butter and minced garlic.
3.
Add the truffle butter to a pan and allow to melt on a medium heat. Add the mushrooms and cook for 1 minute.
4.
Add the dry Pasta Agile with the stock, thyme, a good pinch of salt and pepper and most of the parmesan, reserving a little to sprinkle on top. Cook for 2 minutes, or until the pasta is to your liking. As it cools it will absorb more stock so adjust by adding more stock to taste.
5.
Serve with thinly sliced truffle, the reserved parmesan and fresh parsley. Adjust seasoning to taste.
Tasty Tips
Adjust the amount of stock to taste. Start with 200ml and adjust in increments until to your liking. As it cools it will absorb more stock so you may need to add more.
If you use mushrooms other that chanterelle, they may take longer to cook so adjust the initial cooking time when you add the mushrooms before the pasta accordingly by 1 - 3 minutes.