Pumpkin & Sage Alfredo
SERVES 4
PREP TIME 1.5 hours
COOK TIME 1 hours
TOTAL TIME 2.5 hours
FEATURED IN RECIPE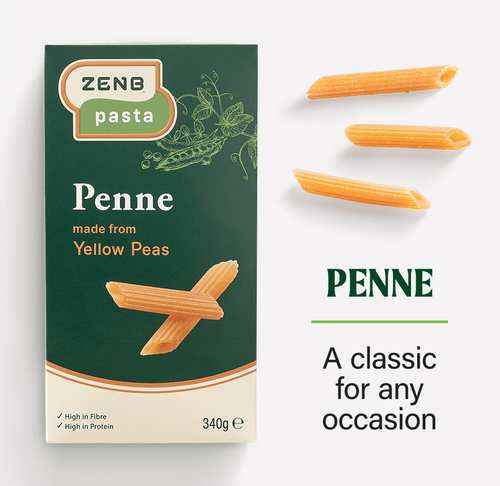 Penne Pasta
A cosy autumn classic. This comforting pasta dish using the whole pumpkin so absolutely nothing goes to waste. Created by @fortheutterloveoffood
INGREDIENTS
300g ZENB penne pasta
75g Cashew nuts
375ml Water
1 Medium pumpkin
2 tbsp Olive oil
4 Garlic cloves, minced
2 Fresh sage sprigs + 8 leaves
¼ tsp Nutmeg
¼ tsp Smoked paprika
Salt & pepper to taste
INSTRUCTIONS
1.
Soak your cashews in boiling water for a minimum of 1.5 hours or overnight.
2.
Preheat on oven to 200oc. Wash the pumpkin before peeling the skin, cutting the peelings into roughly 1cm strips. Chop the pumpkin flesh into 2cm cubes and collect and separate the seeds.
3.
Take 2 non – stick baking trays. Place the pumpkin flesh on one with a little salt & pepper and 1 tbsp olive oil, toss to combine. On the second place the skin and seeds with the 8 sage leaves. Season with salt, pepper and ½ tbsp olive oil, using your hands to make sure the skins and seeds are well coated in the mixture.
4.
Place both trays in the pre – heated oven and roast until golden brown for approximately 40 minutes, taking the tray of seeds and pumpkin skin out after 20 minutes once crispy and golden. Set aside for later.
5.
Meanwhile, blitz the soaked cashews with 375ml water until smooth and creamy. Once the pumpkin is roasted, blitz 120g to form a puree.
6.
Heat a large pan with ½ tbsp olive oil and add the remaining sage and garlic and lightly fry on a medium – high heat for a few minutes until fragrant and starting to become golden.
7.
Reduce the heat to medium, add the creamy cashews and pumpkin puree and stir through to combine. After a couple of minutes add the nutmeg, paprika and salt & pepper to season. Continue stirring throughout until the sauce is thick and creamy. Remove the sage from the pan.
8.
Transfer the sauce to a blender and blitz until silky smooth
9.
Cook your ZENB penne pasta according to packet instructions. Stir through the alfredo sauce and serve topped with the remaining roast pumpkin, crunchy pumpkin skin and seeds.
Tasty Tips