Prawn & Chorizo Pasta with ZENB Red Pepper Sauce
SERVES 2
PREP TIME 5 minutes
COOK TIME 15 minutes
TOTAL TIME 20 minutes
FEATURED IN RECIPE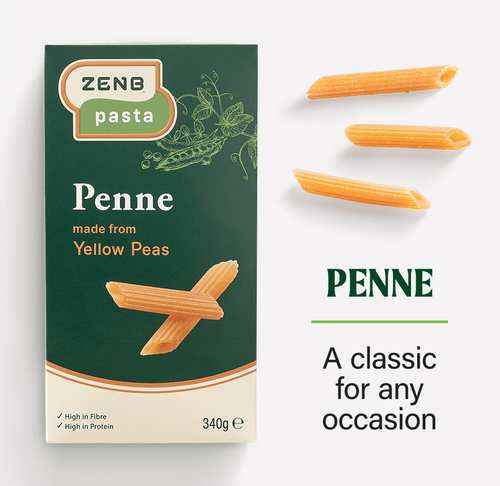 Penne Pasta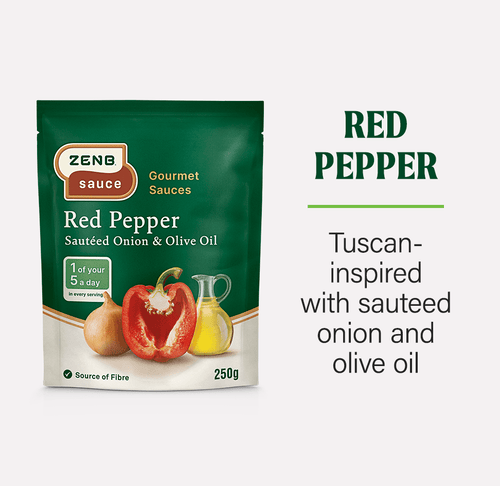 Red Pepper Gourmet Pasta Sauce (250g)
A perfect meal during the months of February to November when prawns are in full season. Pair this with ZENB Red Pepper Sauce & Penne, chorizo, peas & fresh pea shoots. This recipe is great for a main meal accompanied by toasted garlic bread to get the summer holiday feel!
INGREDIENTS
1 pack ZENB Red Pepper Sauce
170g ZENB Penne
1 tbsp olive oil
8 Raw king prawns
½ red onion (finely diced)
120g chorizo (diced)
80g frozen or fresh peas
2 garlic cloves (crushed)
Handful of chopped chives
Juice of ½ fresh lemon
Chilli flakes & fresh pea shoots to top the dish
INSTRUCTIONS
1.
Bring a large pan of water to the boil and cook the pasta until desired firmness (10-13 minutes).
2.
Meanwhile, heat 1 tbsp of olive oil in a frying pan, add the raw prawns and cook for 3-4 minutes until cooked through. Remove and set aside for later.
3.
xAdd ½ diced red onion to the same pan with the chorizo and fry for 5 minutes.
4.
Add 80g peas, 2 garlic cloves, chives and cook through for 3 minutes.
5.
Add the cooked prawns, ZENB Red Pepper Sauce, Juice of ½ a lemon, 170g ZENB cooked Pasta & mix through on the heat for 2 minutes.
6.
Serve and top with chilli flakes and fresh pea shoots.
Tasty Tips
To keep in season, you can throw in some asparagus in Spring or courgetee in Summer!