Pesto Stuffed Mac & Cheese Cups
SERVES 4
PREP TIME 10 minutes
COOK TIME 20 minutes
TOTAL TIME 30 minutes
FEATURED IN RECIPE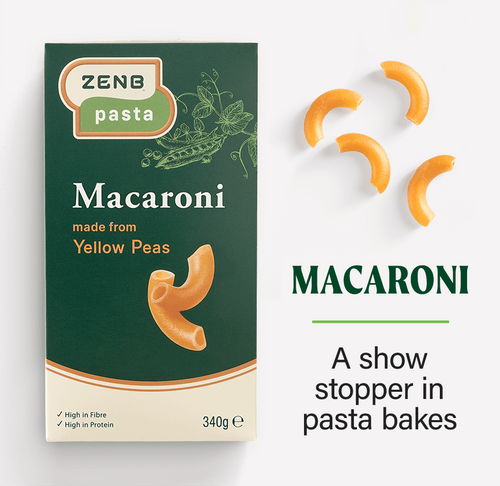 Macaroni Pasta
ZENB Macaroni is coated in an indulgent cheese sauce, popped in a muffin tin, filled with mozzarella and pesto and baked until golden and crispy. The perfect side dish or cheesy snack created by a well-known recipe brand, @twisted who transform traditional recipes into mouth-watering masterpieces!
INGREDIENTS
250g ZENB Macaroni
60g unsalted butter, softened
70g grated parmesan cheese, divided
30g melted butter
1 garlic clove, minced
30g plain flour
¼ tsp paprika
½ tsp mustard powder
300ml whole milk
200g double Gloucester cheese, grated
200g cheddar cheese, grated
Salt and pepper to taste
75g pesto
80g mozzarella cheese, cubed
INSTRUCTIONS
1.
Brush a muffin tin with butter and then sprinkle with grated parmesan cheese to coat.
2.
In a pot over medium heat, melt butter. Add the garlic and cook until aromatic, about 1 minute. Add the flour, paprika and mustard powder and cook for 2 minutes.
3.
Pour in the milk gradually whisking in between to create a smooth sauce. Bring to a bubble then add the cheeses bit by bit. Season with salt and pepper
4.
Preheat oven to 200ºC. Cook ZENB Macaroni 2 minutes less than directed on the package. Drain and add to the sauce.
5.
Fill each muffin tin halfway with the Macaroni mix. Fill each one with a piece of mozzarella cheese and a teaspoon of pesto. Fill to the top with Macaroni and cheese. Sprinkle the tops with more parmesan cheese.
6.
Bake for 18-20 minutes or until golden brown. Serve with more grated parmesan.
Tasty Tips
Allow the mac n cheese cups to cool slightly before you serve, this ensures they hold their shape!