Pasta & Breadcrumb Bake
SERVES 4
PREP TIME 15 minutes
COOK TIME 30 minutes
TOTAL TIME 45 minutes
FEATURED IN RECIPE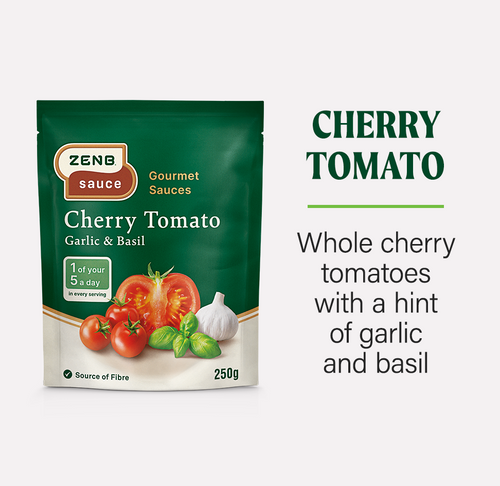 Cherry Tomato Gourmet Pasta Sauce
A comforting crunchy pasta bake, laced with extra vegetables and gluten free breadcrumbs.
Brought to you by: @Lauren_Lovatt
INGREDIENTS
1 pack ZENB Macaroni Pasta
1 pack ZENB Cherry Tomato, Garlic and Basil Gourmet Sauce
200g kale, washed and dried
250g gluten free oats
2 tbsp dried sage or oregano
1 tsp salt
100ml olive oil
INSTRUCTIONS
1.
Preheat the oven to 180 degrees Celsius.
2.
Cook the ZENB Pasta as the pack instructions and then drain the pasta and mix the pasta with the ZENB Cherry Tomato Gourmet Sauce.
3.
Strip the kale leaves from stems and tear the leaves into small pieces and roughly chop the stems for the breadcrumbs.
4.
Add the leaves only to the pasta and sauce them place the mixture into a medium sized 2 inch deep baking tray, spreading it our so it is flat and even.
5.
Make the breadcrumbs by adding the oats, herbs and salt to a food processor, process to a crumb and then add the roughly chopped kale stems and oil and process again.
6.
Sprinkle the breadcrumbs over the top of the pasta and bake for 30 minutes until golden and crisp on top.
Serve hot.
Tasty Tips
Perfect for sharing with firends!