Macaroni with roasted vegetables
SERVES 4
PREP TIME 30 minutes
COOK TIME 30 minutes
TOTAL TIME 60 minutes
FEATURED IN RECIPE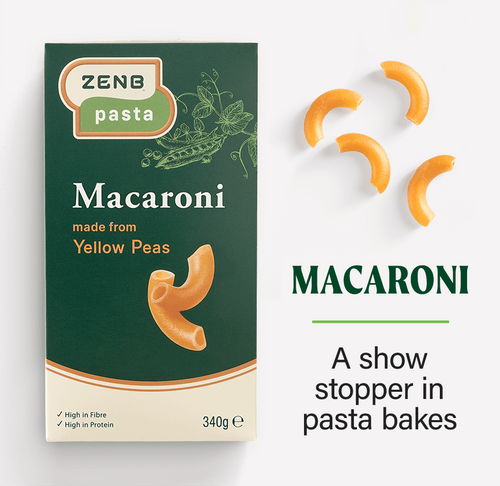 Macaroni Pasta
Using up the ingredients, you always have in your cupboard to make a waste saving sauce. With tomatoes, crispy broccoli, herb stems and squashed garlic. By Lauren Lovatt
INGREDIENTS
340g ZENB Macaroni
½ head broccoli, washed and roughly chopped
1/2 lemon
One chili, washed and roughly chopped
One carrot, washed thoroughly and roughly chopped
2 tomatoes washed and cut in half
30g herb stalks
1 tsp salt or miso
250ml Olive oil
INSTRUCTIONS
1.
Place all the vegetables onto a baking tray and toss them with 2 tbsp of oil, 2 tbsp water and a pinch of salt.
2.
Roast the vegetables for 30 mins at 180c.
3.
While the vegetables are cooking prepare the herb stalk oil, adding the chopped stalks to a pestle and mortar or small blender with oil and miso/salt. Mix well until you have a reasonable smooth oil, ready to drizzle over the dish.
4.
Cook the ZENB Macaroni Pasta as the pack instructions and then drain the pasta.
5.
Once the vegetables and cooked through and lightly golden take the tray from the oven and tumble the pasta onto the tray, then spoon over the herb stem oil and toss everything thoroughly.
Serve warm.
Tasty Tips
Try with other veggies too!