One-Pot Black Bean Fajita ZENB Penne
SERVES 4
PREP TIME 10 minutes
COOK TIME 27 minutes
TOTAL TIME 37 minutes
NUTRITIONAL FACTS
Serving Size: 756g

Calories: 654
| | |
| --- | --- |
| Total Fat | 20g |
| Saturated Fat | 7.1g |
| Salt | 2.9mg |
| Carbohydrates | 65g |
| Fibre | 19g |
| Protein | 36g |
* Nutrition information is estimated based on the ingredients and cooking instructions as described in each recipe and is intended to be used for informational purposes only. Please note that nutrition details may vary based on methods of preparation, origin and freshness of ingredients used.
FEATURED IN RECIPE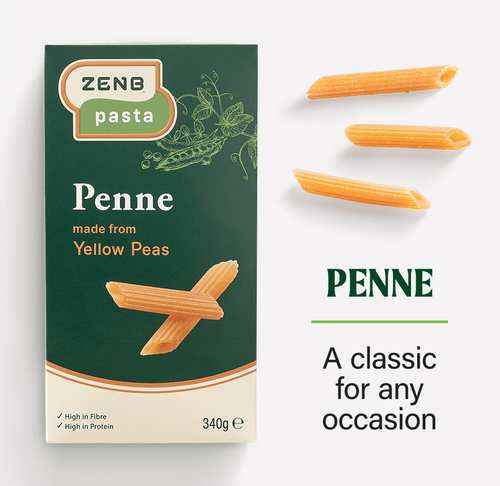 Penne Pasta
This low calorie, one-pot recipe is a great way to enjoy your ZENB Penne Pasta. Combining the taste of various spices, black beans, and cheese, this recipe delivers on familiar flavours you know and love.
INGREDIENTS
• 1 box (340g) ZENB Penne Pasta made from 100% Yellow Peas, uncooked
• 2 tablespoons olive oil
• 3 peppers (red, green and yellow), cut into thin strips
• 1 small onion, thinly sliced
• 1 teaspoon salt
• 1 teaspoon cumin
• 1 teaspoon chili powder
• 1 teaspoon garlic powder
• 946ml low sodium chicken broth
• 1 can sweetcorn, drained
• 1 can black beans, rinsed
• 1 cup shredded Monterey Jack cheese
• 1 tablespoon finely chopped coriander
INSTRUCTIONS
1.
Heat oil in large Dutch oven or pot on medium-high heat. Add peppers, onions and salt to pot. Cook 5-6 min., stirring occasionally, until tender. Add spices; cumin, cook 1 min. until fragrant.
2.
Stir in ZENB Pasta and broth; bring mixture to a boil. Reduce heat to medium-low; cover and cook 12 min. or until pasta is al dente.
3.
Stir in corn and beans; cook 2 min. until heated through. Remove pan from heat. Add cheese; mix gently until cheese is melted. Serve garnished with coriander.
Tasty Tips
Serve with toppings like lime wedges, sour cream, avocado slices and hot sauce.