One-Pot Beef Stroganoff with ZENB Macaroni Pasta
SERVES 4
PREP TIME 15 minutes
COOK TIME 27 minutes
TOTAL TIME 42 minutes
NUTRITIONAL FACTS
Serving Size: 512g

Calories: 632
| | |
| --- | --- |
| Total Fat | 21g |
| Saturated Fat | 5.8g |
| Salt | 1.7mg |
| Carbohydrates | 55.1g |
| Fibre | 12g |
| Protein | 47g |
* Nutrition information is estimated based on the ingredients and cooking instructions as described in each recipe and is intended to be used for informational purposes only. Please note that nutrition details may vary based on methods of preparation, origin and freshness of ingredients used.
FEATURED IN RECIPE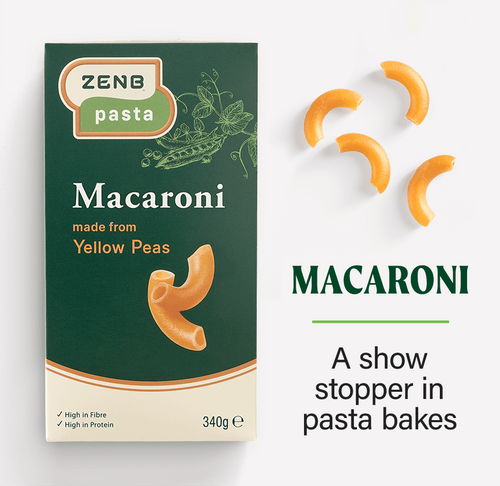 Macaroni Pasta
One-pot recipes are a great way to keep the cooking process simple and sets up an easy clean up after you have enjoyed your dinner. This ZENB Macaroni Pasta recipe brings delicious flavour to a familiar beef stroganoff dish the family will love.
INGREDIENTS
• 1 pound beef sirloin steak, cut into 1/2-inch cubes
• 2 tablespoons olive oil, divided
• 1 teaspoon each salt & ground black pepper
• 1 box (340g) ZENB Macaroni Pasta made from 100% Yellow Peas, uncooked
• 1 medium yellow onion, chopped
• 230g cremini mushrooms, quartered
• 2 cloves garlic, minced
• 2 tablespoons all-purpose flour
• 700ml low-sodium beef broth
• 2 teaspoons Worcestershire sauce
• 1/2 cup sour cream
• 1 tablespoon finely chopped Italian parsley, plus additional for serving
INSTRUCTIONS
1.
Heat 1 tablespoon olive oil in large pot on medium-high heat. Season steak with salt & pepper. Cook 3-4 min. or until seared, turning once. Transfer beef to clean plate.
2.
Heat remaining oil in same skillet. Add onions and mushrooms. Cook 5-6 min., stirring occasionally, until onions are translucent and mushrooms are browned. Add garlic and flour; cook 1 min. stirring constantly. Add broth, Worcestershire sauce and ZENB Pasta. Bring mixture to a boil while gently scraping brown bits from bottom of pan.
3.
Reduce heat to medium. Cover and cook 11 min., or until pasta is tender. Remove pan from heat. Return beef and any juices, sour cream and parsley to pan. Mix gently until well combined and heated through. Garnish with additional parsley before serving.
Tasty Tips
Substitute low-fat Greek yogurt for the sour cream to save some calories. Stir Dijon mustard into the yogurt or sour cream for an extra kick.
Boneless ribeye steak or lean ground beef are great substitutions for the sirloin.
Make this dish gluten-free by skipping the flour. Make a slurry instead by whisking 2 tablespoons cornstarch into the beef broth before adding to the pan. Continue as directed.