One Bowl Agile 'Mac' & Cheese
SERVES 1
PREP TIME 1 minutes
COOK TIME 2 minutes
TOTAL TIME 3 minutes
FEATURED IN RECIPE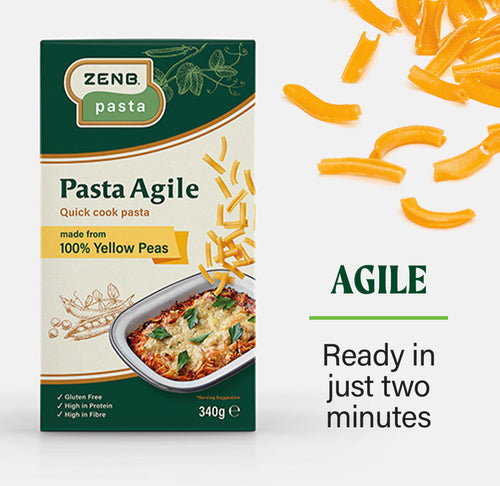 Quick Cook Pasta Agile
ZENB Pasta Agile cheese…yes please! One-Bowl Mac & Cheese will satisfy your late-night cravings. It is also a guilt-free snack that is an excellent source of protein and fiber.
INGREDIENTS
2/3 cup uncooked ZENB Pasta Agile
1/2 cup water
1 tablespoon butter
1/4 cup shredded mild cheddar cheese
salt & ground black pepper
INSTRUCTIONS
1.
Combine pasta and water in medium microwavable bowl (at least 2-1/2 cup volume). Top with butter. Microwave on HIGH 2-2½ minutes, or until pasta is tender.
2.
Carefully remove bowl from microwave. Do not drain. Add cheese. Stir continuously for 15-20 seconds, until smooth sauce forms and pasta is evenly coated.
3.
Season to taste with salt & pepper.
Tasty Tips
The liquid remaining in the bowl after the microwave step helps to create the cheese sauce. Sauce will thicken upon standing.
For a cheesier dish, increase cheese to 1/3 cup.