Nourishing Lentil and Pasta Stew
SERVES 4
PREP TIME 10 minutes
COOK TIME 20 minutes
TOTAL TIME 30 minutes
FEATURED IN RECIPE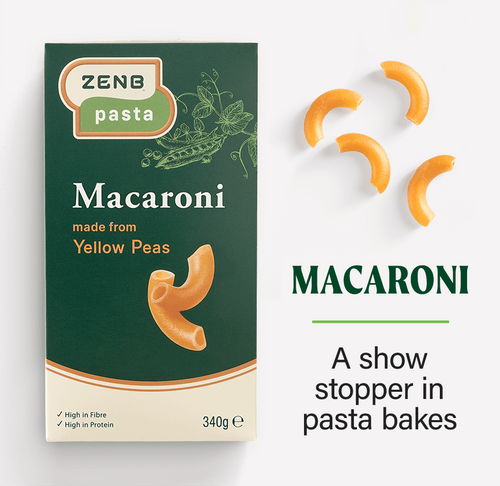 Macaroni Pasta
A delicious warming recipe for those colder months.
INGREDIENTS
1 medium onion, quartered
300g cherry tomatoes
2 tbsp extra virgin olive oil
2 ribs celery, diced
2 carrots, diced
3 garlic cloves, minced
1 tbsp fresh thyme,
1 tbsp fresh rosemary
2 bay leaves
3/4 cup red lentils
2 tbsp tomato puree
1/3 tsp harissa, or to taste
1/2 tsp smoked paprika
4 cups veggie stock
Salt and pepper to taste
200g ZENB Macaroni
INSTRUCTIONS
1.
Place the onions and cherry tomatoes in a food processor and blitz until course. You don't want super fine. Just pulsed so they still have texture.
2.
Heat the olive oil in a large soup pan. Once hot, fry the celery and carrots for 3 minutes. Add the garlic, onions and tomato mix and cook for 2 more minutes.
3.
Add the herbs, lentils, tomato puree, harissa, spices, stock and seasoning. Bring to the boil then reduce to a simmer and cook for about 20 minutes, or until the lentils are to your liking.
4.
Meanwhile, cook the pasta as per the packet instructions. Drain and rinse. Taste the stew and adjust seasoning to taste. Stir through pasta and warm through. Top with fresh parsley to serve and good drizzle of extra virgin olive oil.
Tasty Tips
If you don't have a food processor you can finely dice the onions and use tinned tomatoes in place of fresh cherry tomatoes but using a food processor and fresh cherry tomatoes gives the best flavour and texture.