Nadia's Roasted Red Pepper Penne
SERVES 2-4
PREP TIME 15 minutes
COOK TIME 40 minutes
TOTAL TIME 55 minutes
FEATURED IN RECIPE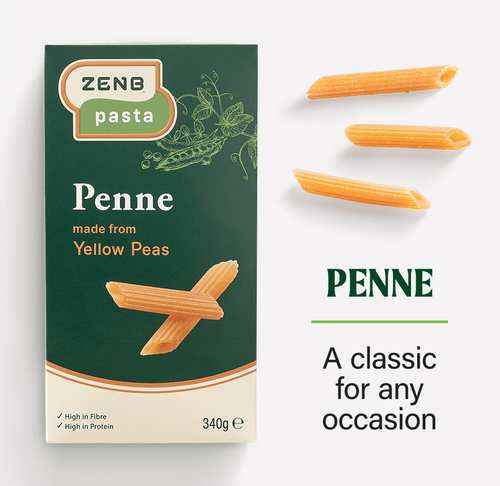 Penne Pasta
Nadia's vegan/gluten-free roasted red pepper dish uses a variety of fresh, seasonal ingredients, ZENB Yellow Pea Penne and can be created in a flash!
INGREDIENTS
Red Pepper Sauce
250g ZENB Penne, cooked according to pack instructions
2 red peppers
1/2 onion, finely chopped
3 garlic cloves, crushed
1 tbsp olive oil
5 sun-dried tomatoes
1 vegetable stock pot
1.5 tbsp nutritional yeast
2 tbsp cornflour
235ml (1 cup) water
Salt & pepper to taste
To Serve
Vegan cheese, shredded
Chilli flakes
Fresh basil
INSTRUCTIONS
1.
Preheat your oven to 220C/200C fan.
2.
Slice the red peppers in half and remove the seeds. Arrange on a baking sheet lined with parchment paper and brush both sides with olive oil. Roast for 30-35 minutes.
3.
In the meantime heat 1 tbsp of olive oil in a small pan and sautee the onions and garlic for 5 minutes until transparent.
4.
Once the peppers are cooked, add to a blender/food processor along with the sautéed onions and garlic and the remaining ingredients. Blend on high until smooth.
5.
Pour the sauce in a large pan and heat through, then fold in the cooked ZENB penne pasta.
Tasty Tips
Sprinkle on some vegan cheese, chilli flakes and fresh basil!