Mushroom Stroganoff
PREP TIME 40 minutes
COOK TIME 30 minutes
TOTAL TIME 70 minutes
FEATURED IN RECIPE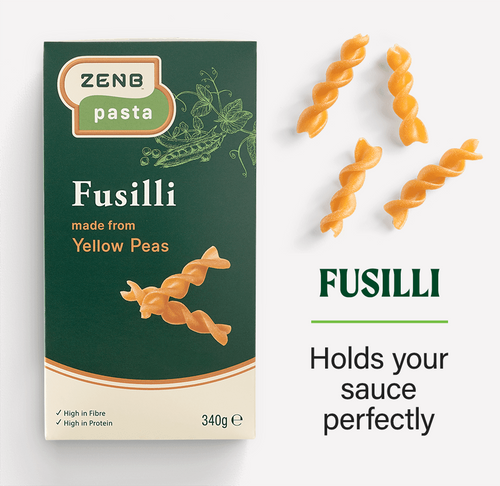 Fusilli Pasta
A vegan adaptation of the classic stroganoff recipe that would traditionally include beef. This mushroom stroganoff recipe is still both creamy and hearty but uses the nutritional powerhouse that are mushrooms to give this recipe a wholesome healthy twist but still retains some of that meaty texture.
Simple to make and nutritionally balanced, the recipe uses ZENBs yellow pea fusilli to help provide the plant-based protein alongside silken tofu and cashews that you would otherwise get from the meat and dairy in the traditional recipe.
What is Stroganoff?
The word Stroganoff is used to describe a sauce that is both creamy and slightly sour. Typically gravy like in consistency, it is usually thickened with flour, flavoured with mustard and almost always contains mushrooms and onions.
Pale brown in colour, the recipe is easily adaptable as long as the core elements remain.
Why is it called Stroganoff?
The word Stroganoff is said to originate from an 18th century Russian noble, Count Pavel Aleksandrovich Stroganoff.
Allegedly a cooking contest took place, whereby a French chef who worked for the Stroganoff family won the competition and as a result named the dish after the count, in honor of his employer, which is why today, we refer to the recipe as a 'Stroganoff'.
History of the recipe
Originating in Russia, the commonly accepted history of the dish is that it was invented sometime in the early 1800s with a rise to fame in America during the 1950s and 1960s.
It wasn't a dish known to us in the UK until the 1900s, when the first recipe for Beef Stroganoff appeared in an English language cookbook in 1932, but its popularity didn't really pick up until after World War II.
Overtime, the traditional recipe has been adapted to create vegan and vegetarian versions, as well as those that are a little healthier or even swapping out the meat from traditional beef to chicken.
INGREDIENTS
320g ZENB yellow pea fusilli
½ tbsp Olive oil
1 White onion, diced
4 Garlic cloves, minced
300g Chestnut mushrooms, sliced
1 tsp Dried rosemary
65g Cashew nuts, soaked in boiling water for 30 minutes
300ml Milk of choice
300ml Silken tofu
1 tbsp Tamari
1 tbsp Nutritional yeast
1 Lemon, juiced
100g Baby spinach
Salt and pepper to taste
Flat leaf parsley, chopped
INSTRUCTIONS
1.
Place the cashews in a heatproof bowl and cover in boiling water. Leave to soak for 30 minutes until the cashews have softened and then drain.
2.
Meanwhile, heat a frying pan with the olive oil over a medium heat before adding the onion and garlic. Sauté for 10 minutes or until the onions are soft and translucent.
3.
Add the mushrooms and rosemary, mix well and leave to cook for 10 minutes or until the mushrooms have softened and reduced, stirring occasionally. Once cooked, set aside.
4.
Cook the ZENB yellow pea fusilli according to packet instructions.
5.
Make the creamy gravy by adding the softened cashews, milk of choice, silken tofu, lemon juice, tamari and nutritional yeast to a high-powered blender and blitz until silky smooth.
6.
Add the gravy to the mushroom and onion mix and stir through. Season with salt and pepper.
7.
Remove from the heat and stir in the spinach until wilted.
8.
Mix in the pasta, adding a little of the pasta water if the sauce is too thick.
9.
Serve straight away, garnished with chopped flat leaf parsley.
Tasty Tips
If you are looking to go that extra mile and make this dish extra special, why not try the following:
Swap out the dried rosemary and use the fresh herb instead.
Use a mixture of exotic and locally grown mushrooms (when in season) to add more depth of flavour to the dish. Keep the quantity the same at 300g, just vary the variety rather than just sticking to chestnut mushrooms.
If you aren't vegan, try finishing your sauce with a splash of cream for extra creaminess.
How is Mushroom Stroganoff served?
This simple Mushroom Stroganoff is best served with the ZENB yellow pea fusilli and ideally enjoyed as soon as the dish is ready. However, if this isn't possible see below for recommendations on storage, reheating etc.
It's a classic dish that is great for serving a crowd of people, with a recipe that is easily scalable, or equally perfect for batch cooking if you are looking to get ahead for easy weekday meals.
Suitable alternatives if you can't find some ingredients
Mushrooms: whilst this recipe calls for the use of Chestnut mushrooms (as these are easily available in most supermarkets), any other mushrooms will work well including a mix of different varieties like shitake, portobello, button and oyster.
Onions: white onions can be swapped for red onions, diced, and cooked in the same way.
Nutritional Yeast: if you aren't vegan, the nutritional yeast can be swapped out for grated cheese or cream to give the sauce it's creaminess.
Spinach: it is possible to use either fresh or frozen spinach in this recipe. If you choose to use frozen spinach, it will just release more water into the sauce so may need to be reduced a little / heated for a little longer. You could even try using kale if you don't have spinach available and wilt this in the sauce in the same way. It will just take a little longer to wilt and the sauce will end up having a little more body to it as kale doesn't reduce in quite the same way as spinach.
Pasta: this recipe uses the ZENB fusilli as it holds the sauce well and the yellow peas ensure it is also high in protein. However, see below for other pasta recommendations if you don't have this available.
Herbs: the recipe uses dried herbs as we have found these are more readily available in most people's homes. However, these can be swapped for fresh herbs if you have them to hand.
Tamari: this can be swapped for soy sauce if the guests you are feeding are not gluten free or coeliac. Tamari and soy sauce, whilst interchangeable in terms of flavor are not when it comes to avoiding the use of gluten.
Stroganoff variations
Whilst we recommend following the recipe for the best tasting dish, below are a few variations if you have a specific dietary preference or simply find yourself wanting to elaborate on the dish a little more
Beef: if you don't follow a vegan or vegetarian diet, why not try the most popular version of this recipe and add strips of fillet steak to the creamy gravy at the same time as you cook out the onions and garlic, sauteing them in the sauce.
Chicken: if you enjoy meat but try to avoid red meat why not swap out the beef for chicken in another popular variation that adds strips of chicken breast to the pan at the same time as the onion and garlic.
Plant based meats: whilst this dish has a high protein content from the tofu, cashews and pasta. If you are looking to add more of that meaty texture but follow a vegan diet, why not try adding some plant based 'beef' or 'chicken' strips to the sauce, according to packet instructions.
What other pasta shapes go well with Mushroom Stroganoff?
Whilst this recipe uses the ZENB yellow pea fusilli, any other pasta shape that captures sauce will work well.
Pasta shapes like ZENB's penne or macaroni would be a good alternative and still deliver that high protein content that keeps this vegan meal balanced.
Otherwise, you could try pappardelle or tagliatelle which would give the dish body knowing that ZENB is working to expand its range of pastas soon.
What to eat with Mushroom Stroganoff?
Whilst Mushroom Stroganoff is traditionally served with pasta if you are looking for other ideas on what to serve alongside this dish, why not try swapping out the pasta for:
Creamy mashed potatoes
Serving it inside a jacket potato
Basmati rice, either white or brown
Smothered over seasoned potato wedges
Or as the gravy sauce is already quite rich and heavy, you could try opting for lighter sides and swap out the pasta or carbohydrates for:
Steamed green vegetables
Sauteed tender stem broccoli
Crisp green salad
And if you are looking to make more of an occasion out of this dish and looking for a more extensive menu to serve alongside it, why not try these suggestions:
Meat – eaters: as the stroganoff itself is quite a rich and heavy dish, you want to try and keep your starter on the lighter side and not overload your palette too early. Try an Asian style salad with sauteed chicken. The crispy fresh veg with a lightly pickled dressing make a good match for the richer main course that is to come.
Vegans: try a selection of crispy and steamed gyozas in a ponzu dipping sauce. Fillings like miso aubergine or marinated cabbage will work well, Again, the pickled flavours will be fresh and light, leaving room for the heavier main course that is to come.
Vegetarians: make an occasion of it by starting with a harissa roasted cauliflower as a centre piece for the starter. Serve warm alongside a pomegranate laced yoghurt sauce and delicate green leaves like rocket or lambs' lettuce, for a satisfying yet light start to the meal.
Gluten free: any of the options above are suitable for those that need to follow a gluten free or coeliac diet. Just ensure the gyoza are made with a rice paper wrapper and haven't come into contact with gluten at any point in the process.
What to drink with Mushroom Stroganoff?
Whilst this mushroom stroganoff is healthier than the traditional recipe, it is still on the hearty side of vegetarian / plant-based cuisine. As a result, you want a drink that compliments this.
Suggested drinks to enjoy alongside this dish are:
Wines: a creamy rich Chardonnay or an easy drinking Pinot Noir. You want to avoid anything too light and acidic, or anything too full – bodied and oaky which could add weight to the dish.
Beer: try a flavourful ale. Something like a dark Belgian beer would work well and balance the earthiness of the mushrooms.
When to best enjoy Mushroom Stroganoff?
This simple stroganoff recipe is best enjoyed as soon as it is made, although if you read further down there are options for freezing, storing and reheating this recipe.
Best enjoying piping hot straight from the pan it is a hearty classic that is perfect for serving in the chillier winter months when we all crave those comforting richer meals.
The benefit of eating this dish straight away is you can ensure the mushrooms aren't overcooked and therefore unnecessarily rubbery which can occur when you reheat.
How to store Mushroom Stroganoff
To store this healthy mushroom stroganoff, you want to ensure it has cooled completely.
Best stored in the fridge, once cool, transfer to an airtight container where it will keep in the fridge for up to 3 days.
How long does Mushroom Stroganoff last in the fridge?
This is a recipe that you can make ahead and return to when you are short on time. As long as the Mushroom Stroganoff is stored in the fridge in an airtight container, it will keep for up to 3 days.
Can Mushroom Stroganoff be frozen?
If you aren't planning on eating this immediately, it is possible to freeze this Mushroom Stroganoff. But you will just want to freeze the sauce without the pasta.
Similar as to if you are popping it in the fridge, allow the sauce to cool and place in an airtight container before transferring to the freezer, where it will keep for up to 3 months.
Consider freezing it in individual portions / bags, to minimize waste if you don't often feed several people at once.
Can Mushroom Stroganoff be reheated?
To heat the Mushroom Stroganoff, you want to allow the dish to full defrost (if frozen) or come back up to room temperature (if refrigerated). Then either heat through in a saucepan on the stovetop or microwave on a medium – high heat until warmed through.
Just keep an eye on the sauce consistency, if it starts to dry out a little, or gets a little too thick, stir through a small amount of dairy free milk.
If the Mushroom Stroganoff has been frozen, you will need to make the pasta to accompany the dish.
What is the difference between Stroganoff and Goulash?
The primary difference between Stroganoff and Goulash comes down to the point that Stroganoff is a gravy whereas Goulash is a stew.
Aside from this Goulash typically contains the protein, vegetables and often noodles to make up a hearty soup.
Stroganoff is a sauce that nearly always contains mushrooms and onions in a creamy gravy but is then paired a starch of choice.
What is the difference between Stroganoff and Swedish Meatballs?
Traditionally, these are both very heavily meat centric recipes., but this is where their similarities end.
Swedish Meatballs are very small spherical patties that are made from combining two different types of meat, soaked bread to keep the meatballs tender and bound with beaten egg. Before being served in a sauce.
Whereas a Stroganoff is a term used to describe the gravy which forms the basis of the dish. Always creamy in consistency, thickened with flour and nearly always containing mushrooms and onions which have been sauteed on the stove top.
What is the difference between Stroganoff and Romanoff?
Whilst both recipes contain mushrooms, onions, a cream-based sauce and therefore similar in style. Romanoff is typically made with ground beef and egg noodles whereas a Stroganoff, is made with strips of sauteed beef and isn't dependent on a form of starch to make up the content of the recipe.