Mushroom & Aubergine Pasticcio
SERVES 4
PREP TIME 60 minutes
COOK TIME 30 minutes
TOTAL TIME 90 minutes
FEATURED IN RECIPE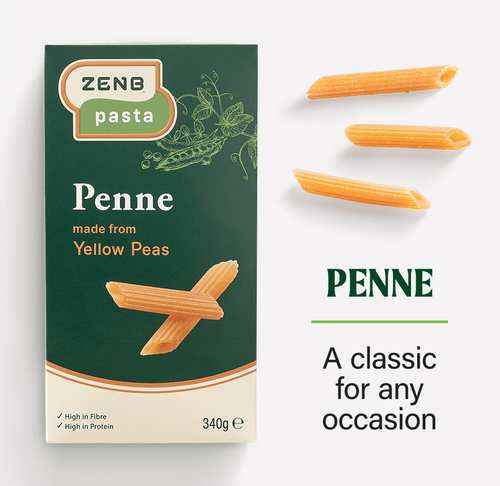 Penne Pasta
ZENB Penne is topped with a hearty, rich aubergine and mushroom ragu and a creamy plant-based bechamel, baked until golden and bubbling. Served with lemon and fresh dill. This recipe is created by a well-known recipe site, @twisted who transform traditional recipes into mouth-watering masterpieces!
INGREDIENTS
Pasta
350g ZENB Penne
Handful fresh dill, roughly chopped
2 tbsp extra virgin olive oil
Salt and pepper, to taste
50g plant-based feta cheese, crumbled
Ragu
500g chestnut mushrooms
1 aubergine
1 red onion, diced
2 celery stalks, finely chopped
1 carrot, peeled and finely chopped
4 tbsp olive oil
4 garlic cloves, minced
2 red chillies, minced
2 tbsp tomato paste
200ml red wine
2 x 400g plum tomatoes
1 cinnamon stick
2 bay leaves
1 tsp dried oregano
1 tbsp brown sugar
Salt and pepper, to taste
Bechamel
3 tbsp olive oil
2 tbsp plain flour
500ml oat milk
1 tbsp nutritional yeast
Salt and pepper, to taste
Pinch fresh ground nutmeg
INSTRUCTIONS
1.
Start by preparing the ragu. Pulse your chestnut mushrooms in a food processor until finely chopped. Set aside. Char the aubergine over an open flame or under the grill until charred all over. Leave that to sit in a bowl covered in cling film for 15 minutes.
2.
In a large pot add olive oil, onion, celery, and carrot over a medium heat. Sauté until beginning to soften, then add the garlic, red chilli, and pulsed mushrooms. Cook for another few minutes.
3.
Cut your aubergine in half and scrape out the softened flesh. Roughly chop, then add to the pot. Add the tomato paste and cook for 2-3 minutes until darkened. Deglaze with red wine, then add in the plum tomatoes and break up with a spoon. Add in the cinnamon stick, bay leaves, oregano, brown sugar, salt, and pepper. Leave to cook, covered, for around 1 hour or until the sauce has thickened.
4.
Meanwhile, start on the bechamel. Add your olive oil to a non-stick pan over a medium heat, then add your flour. Whisk to incorporate and cook for a couple of minutes to remove the raw flour taste.
5.
Slowly whisk in the oat milk. Season with the nutritional yeast, salt, pepper, and nutmeg. Add a ladle-full of the bechamel to the ragu. Preheat the oven to 190ºC.
6.
Cook your ZENB Penne, then toss in olive oil, dill, plant-based feta, salt, and pepper. Add to the bottom of your casserole dish, then spoon over the ragu. Top with your bechamel, then into the oven until golden and bubbling - around 30 minutes. Allow to cool for at least 15 minutes before serving.
Tasty Tips
If you want this dish to be vegetarian instead of vegan you can make a traditional bechamel, this is up to you!