Minestrone Soup
SERVES 4
PREP TIME 10 minutes
COOK TIME 20 minutes
TOTAL TIME 30 minutes
FEATURED IN RECIPE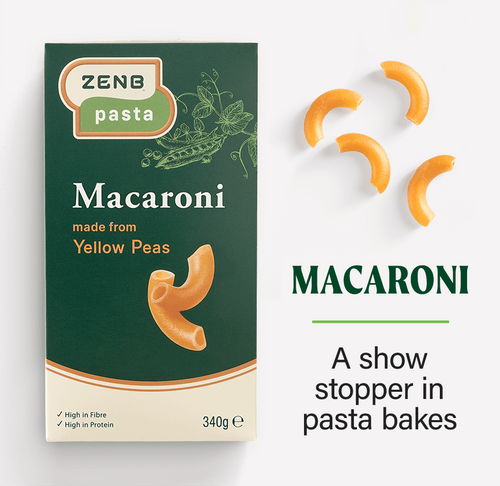 Macaroni Pasta
This super tasty Minestrone soup will be your best friend this winter. Packed full of healthy vegetables, beans and made with a gluten and grain free yellow pea pasta. Ready in under 30 minutes and made in just one pot. Curated by @modernfoodstories
What is Minestrone?
Minestrone is a thick Italian soup made with vegetables in a tomato base, and often with pasta or rice. There's no set recipe for what makes a traditional minestrone, so you'll find lots of different variations across Italy depending on who makes it and what ingredients are in season.
Where does Minestrone come from?
Minestrone dates back to ancient Roman times when the local diet was mainly vegetarian as meat was expensive and scarce. When the Romans occupied different regions in Italy, it became a classic across the country and from where we learnt how to make a really good one!
Common ingredients include onions, carrots, borlotti beans, tomatoes and stock, boiled down into a thick, flavoursome, hearty soup.
My version uses pumpkin (it is the season after all), carrots, celery, kale, peas and cannellini beans. I prefer it to borlotti as it makes a naturally creamier, thicker minestrone recipe but feel free to use any seasonal vegetables that you like. I listed some alternatives below, along with meat variations if you prefer.
I used canned cannellini beans instead of dried beans to speed up the cooking time, making this healthy minestrone recipe one you can make when you're busy on a weeknight.
INGREDIENTS
100g ZENB Yellow Pea Macaroni Pasta
2 tbsp extra virgin olive oil
1 medium onion, chopped small
2 medium carrot, chopped small
200g butternut or pumpkin, peeled, chopped small
2 celery stalks, trimmed, chopped small
3 garlic cloves, minced
1 tbsp rosemary leaves, finely chopped
1 tbsp fresh thyme leaves
2 bay leaves
2 tbsp tomato puree
400g can chopped tomatoes
4 - 5 cups vegetable stock
Salt and pepper to taste
400g cannellini beans
70g kale, cavolo nero or savoy cabbage, chopped
1/4 cup frozen peas
Good drizzle of extra virgin olive oil
1/4 cup grated parmesan or vegan parmesan
INSTRUCTIONS
1.
Add 2 tbsp of olive oil to a large soup pan. Fry the onions, carrot, pumpkin and celery for 6 - 8 minutes on a medium heat. Add the garlic and herbs for 1 further minute.
2.
Add the herbs, tomato puree, tinned tomatoes, stock, salt and pepper. Simmer for 5 - 10 minutes.
3.
Add the pasta and cook for 8 minutes. Stir through the beans for 1 minute.
4.
Remove 3/4 cup of minestrone soup and place in a jug. Blitz with a hand blender and then add back into the soup pan.
5.
Stir and add the greens and frozen peas and cook for 2 - 3 more minutes until everything is cooked to your liking. Season to taste and adjust the amount of stock based on how thick you like it. Serve with parmesan or vegan parmesan and a good drizzle of olive oil. Option to add some torn fresh basil leaves too if you prefer.
Tasty Tips
To add extra flavour to this simple minestrone recipe make sure you use a really good concentrated vegetable stock, fresh herbs and good quality tomatoes. They make the base of the soup and will set you up for the best tasting minestrone around! If you don't have fresh herbs you can of course use dried, but about 3/4 tbsp each.
For extra wow taste factor, feel free to add any or all of the following;
More herbs - you can add up to 2 tbsp of fresh thyme and rosemary if you prefer
Unsalted butter instead of olive oil - if you're not vegan or following a plant based diet, using a good quality butter will add amazing flavour to this minestrone
1 tbsp of sweet white miso - whilst not traditional, this will add that umami flavour and something special to your minestrone
Good seasoning - a good quality salt. I like Male flaked sea salt or Pink Himalayan salt and seasoned well to taste. Don't forget lots of cracked bald pepper too.
Top with fresh herbs and a good drizzle of olive oil. I like fresh basil but Parsley is also nice.
How is Minestrone served?
Minestrone is usually enjoyed for lunch or dinner and is best served in a bowl, but can be packed in a Tupperware and taken for lunch if it's an office day.
For the best taste, top it with some grated parmesan, or vegan parmesan if you're dairy free. A nice slice of toasted sourdough (good for mopping up all that lovely flavour!) also pairs well with this minestrone soup.
Suitable alternatives if you can't find some ingredients
I used pumpkin (it is the season after all), carrots, celery, onions, kale, peas and cannellini beans in this healthy minestrone recipe but feel free to substitute with any vegetables you like.
I like green beans, parsnips, celeriac, potatoes, sweet potatoes, sweetcorn, zucchini and cauliflower as alternatives.
Minestrone variations
Variations with meat
Minestrone is traditionally vegetarian but you can add some cooked meat if you prefer. Roast chicken or turkey is delicious for a healthy, low fat, white meat alternative. Cooked ham hock, sausages (just fry up the meat) or chorizo are great options for incredible flavour too.
Variations for Winter
Want to make your minestrone seasonal for winter? Feel free to add some or all of these winter favourites:
Chopped vacuum packed cooked chestnuts
Root vegetables including celeriac, parsnips, pumpkin, parsley roots and sweet potatoes
Crisped up bacon, pancetta or chorizo
Fresh sage (add 1/2 tbsp chopped fresh sage along with the rosemary and thyme)
Winter greens including cavolo nero, kale, savoy cabbage
What pasta shapes are best with Minestrone?
Minestrone can be made using any small pasta shape. Popular shapes include:
Mini Farfalle: look like bows
Rotini: Tight corkscrews that work well to hold onto a thick sauce
Orzo: Small pasta that looks like grains of rice
Ditalini: Small tube-like shapes, commonly used in pasta e fagioli
Stelline: Tiny, star-shaped pasta that's pretty!
I used the macaroni shape for this simple minestrone recipe as it's small and much like a traditional minestrone but you can substitute with ZENB's penne or fusilli pasta if you adore pasta and want more of a thicker pasta feeling soup!
What to eat with Minestrone?
Minestrone is quite a filling soup on it's own but if you'd like to make it even more substantial and perhaps add a starter or side, i'd recommend the following:
For meat eaters
A cured meat appetiser or side works great with Minestrone. Bresaola or parma ham and shaved Parmigiano, fresh rocket and a drizzle of balsamic vinegar and extra virgin olive oil.
For vegetarians
Some bruschetta topped with salsa and your favourite grated cheese. I particularly like Parmesan. A slice of rustic pizza is always a winner too or you can make a cheats version using tortillas or flatbreads.
For vegans
A slice of sourdough rubbed with a clove of garlic and a good drizzle of olive oil is my favorite for a simple side dish to mop up all the lovely minestrone sauce, a nice slice of vegan pizza or some vegetable kebabs.
For Gluten Free
If you're gluten free, a lovely fresh salad is a super healthy alternative to serve with your minestrone or a slice of toasted gluten free bread dipped in olive oil and balsamic.
When to best enjoy Minestrone?
Minestrone can be enjoyed throughout the year. Simply vary the vegetables depending on the season. In summer, I prefer to use vegetables like courgettes and cauliflowers and in the winter, lots of root vegetables like parsnips, pumpkins, sweet potatoes and winter greens like cavolo nero and kale.
How to store and reheat Minestrone
Minestrone can be stored in Tupperware in the fridge for up to 3 days or freezer for 3 months. To heat from the fridge, simply pour back into a pan and warm up, or use the microwave. You may need to add a little more stock or water after the soup has been sitting as the pasta may thicken it. To cook from the freezer, defrost at room temperature then reheat or defrost in the microwave first and then re-heat.
What is the difference between Minestrone soup and vegetable soup?
Whilst both Minestrone and vegetable soup contain lots of vegetables, yum yum, minestrone is a thicker soup made from a tomato and stock base and uses pasta. Vegetable soup doesn't necessarily have to have a tomato base and often doesn't contain pasta.