Mexican Taco Pasta
SERVES 2
PREP TIME 15 minutes
COOK TIME 5 minutes
TOTAL TIME 20 minutes
FEATURED IN RECIPE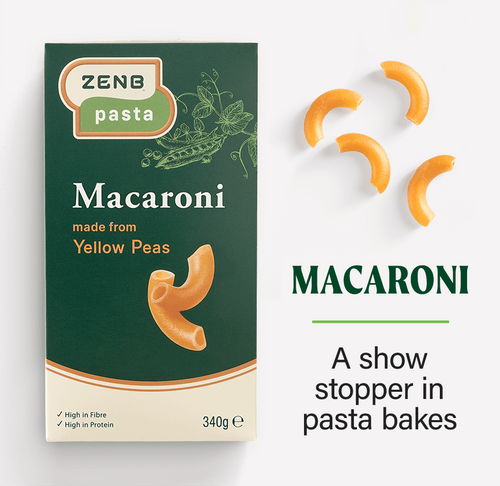 Macaroni Pasta
Traditionally served in soft or hard shell tortillas, this twist on the classic uses the Yellow Pea Macaroni to deliver all the quintessential flavours of a taco but with a protein boost from the Pasta.
Brought to you by: @fortheutterloveoffood
INGREDIENTS
160g ZENB Yellow Pea Macaroni
1 Carrot, diced
1 Green pepper, diced
150g Vegan mince
300ml Vegetable stock
1 tbsp Tomato puree
1 tsp Cumin, smoked paprika, garlic powder and onion powder
Salt and pepper to season
1 Avocado, diced
Small handful of coriander, finely chopped
Lime, cut into wedges
1 Tomato, diced
INSTRUCTIONS
1.
Cook the Macaroni according to packet instructions, drain and set aside.
2.
Heat a large frying pan on a medium-high heat with a teaspoon of oil. Add the carrot and green pepper and fry for 2-3 minutes until softened.
3.
Add the mince, stock, tomato puree and spices, cook for another 10 minutes or until the stock has been absorbed by the mince.
4.
Add the Pasta to the mince, stirring to combine.
5.
Serve into two bowls and top with the garnish of diced avocado, limes, tomato and coriander.
Tasty Tips
If you are looking to go the extra mile, try adding a handful of crushed tortilla chips and 50g of grated cheese to the top of the pasta and grill until bubbling and golden.