Mediterranean Vegetable Tumbet
SERVES 4
PREP TIME 15 minutes
COOK TIME 30 minutes
TOTAL TIME 45 minutes
FEATURED IN RECIPE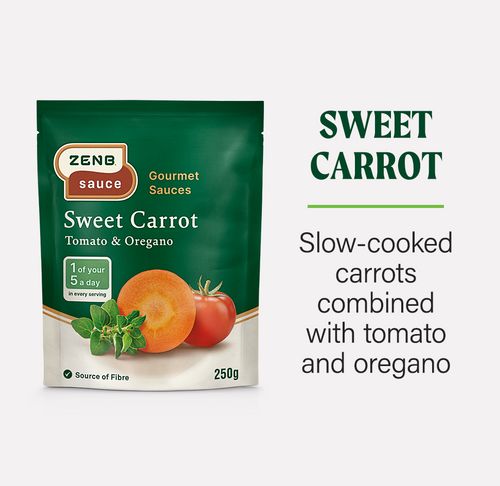 Sweet Carrot Gourmet Pasta Sauce
Typical dish from Mallorca dish with layered potatoes, aubergine, onion and courgette layered with ZENB carrot sauce and Pumpkin seed pesto.
Brought to you by: @Lauren_lovatt
INGREDIENTS
One baking potato, washed
One aubergine, washed
One courgette, washed
One onion peeled
1 pack ZENB Sweet Carrot, Tomato and Oregano Gourmet Sauce
3 garlic cloves
100g Coriander, washed, dried and roughly chopped
50g pumpkin seeds
1 tbsp nutritional yeast
100ml olive oil
100g salad leaves
INSTRUCTIONS
1.
Preheat the oven to 180 degrees Celsius.
2.
Cut all veg into rounds of about ½ cm thick.
3.
Toss all the vegetables with 3 tbsp of olive oil and a pinch of salt.
4.
Roast potatoes, aubergine, onions, courgette on baking trays lined with baking paper, making sure the vegetables are evenly spread out. Roast for 30 minutes, until all vegetables are cooked through and lightly golden. Roast the garlic cloves whole with the vegetables and take them from the oven ten minutes before the end of the cooking time.
5.
While the vegetables are roasting make the pesto by adding the herbs to a food processor or pestle and mortar with the seeds, oil and peeled roasted garlic cloves. Process until you have a reasonably smooth pesto.
6.
Warm the ZENB Sweet Carrot Gourmet Sauce in a small saucepan and once warm and the vegetables are cooked layer the vegetables with warm sauce and pesto to make a stack.
Tasty Tips
Serve with fresh salad leaves, dressed with extra pesto, and enjoy!