Mediterranean Pasta Salad with Parma Ham
SERVES 2
PREP TIME 5 minutes
COOK TIME 10 minutes
TOTAL TIME 15 minutes
FEATURED IN RECIPE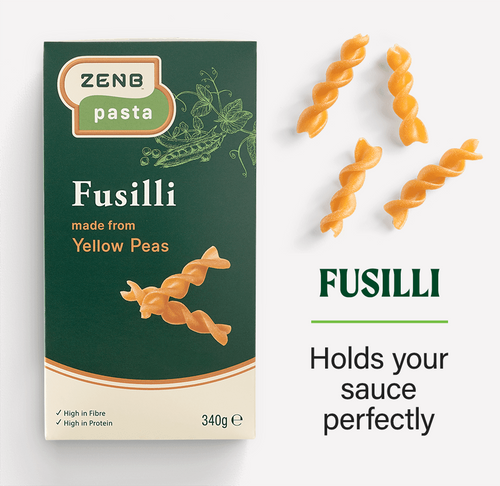 Fusilli Pasta
Brief explanation of the dish, what ZENB product it's paired with, who it is created by. Building on the summary. A light pasta salad made with ZENB Fusilli and packed with an assortment of delicious Mediterranean roasted vegetables, kalamata olives, feta and parma ham. Dressed to impress in a sugar and sweetener-free lemon olive oil dressing with oregano and fresh basil.
Brought to you by: @modernfoodstories
INGREDIENTS
170g ZENB Fusilli
1 medium courgette, cubed
120g mixed peppers, cubed
1 tbsp extra virgin olive oil
110g mixed cherry tomatoes, halved
30g kalamata olives, pitted + torn
5 - 8 leaves fresh basil
1/2 large cucumber, deseeded and cubed (110g)
50g feta, crumbled
4 slices parma ham, torn
Handful of fresh rocket
Dressing
3 tbsp extra virgin olive oil
5 basil leaves, thinly sliced
Squeeze of lemon
Salt and pepper to taste
1/4 tsp dried oregano
1/2 garlic clove, minced
1 tsp red wine vinegar
INSTRUCTIONS
1.
Boil the ZENB Fusilli as per the packet instructions. Drain and allow to cool.
2.
Add the courgette and peppers to a baking tray lined with greaseproof paper. Toss with 1 tbsp of olive oil and a pinch of salt. Roast for 20 minutes or until the courgettes and peppers are tender. Allow to cool.
3.
Mix courgettes, peppers, tomatoes, olives, cucumber, fresh basil, feta, parma ham and rocket together in a bowl.
4.
Mix the dressing together in a small bowl.
5.
Add pasta to veggies and toss with dressing. Season to taste.
Tasty Tips
Use fresh basil to bring maximum flavour and good quality olive oil.