Mediterranean Mash
SERVES 2
PREP TIME 10 minutes
COOK TIME 20 minutes
TOTAL TIME 30 minutes
FEATURED IN RECIPE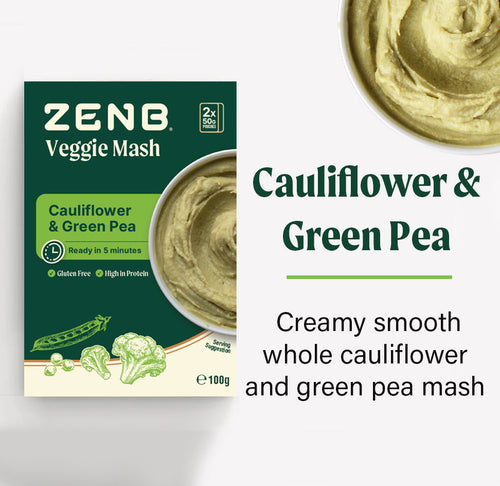 Cauliflower & Green Pea Veggie Mash
Close your eyes and travel back to the mediterranean, with this is the ideal mid-week meal with not only a great balance of vegetables and protein but also full of flavour.
Using an array of rainbow vegetables this dish will brighten up your day and is a great chance to use up any leftover vegetables in your fridge too.
This dish can be put together in just 30 minutes and all it takes is some oven roasted vegetables, our quick and easy ZENB cauliflower and pea mash topped with a zingy salad.
INGREDIENTS
1 sachet ZENB Cauliflower and pea mash prepared as per the packet instructions.
250ml plant based milk
20g plant based butter
½ tsp chilli flakes
Freshly cracked black pepper
½ tsp Sea salt
1 red onion, peeled and roughly sliced
1 red pepper, stalk and seed removed
1 courgette, washed
1 tomato, washed
4 tbsp olive oil
½ tsp salt
Salad dressing
100ml olive oil
30-50ml lemon juice
1 tbsp whole grain mustard
½ -1 tsp honey
1 garlic clove, crushed
INSTRUCTIONS
1.
Preheat the oven to 200 degrees Celsius.
2.
Prepare the vegetables by roughly chopping them into 1 inch pieces.
3.
Tumble them onto a baking tray with the olive oil and salt and roast for 20 minutes, or until lightly caramelised.
4.
Add the salad dressing ingredients to a jar and shake, taste and adjust citrus and salt as needed.
5.
Once the vegetables are 5 minutes from being ready, make the mash as per the packet instructions following the ingredient guidelines here for a slightly spicy version.
6.
Place the mash on the plate, top with the roasted vegetables, washed salad leaves and drizzle with as much dressing as you desire. Enjoy!
Tasty Tips
Jazz up your salad with some candied or toasted nuts and seeds to add that all important crunch!
Switch up this recipe through the seasons adding roasted carrots in the autumn or leeks in the spring to keep enjoying this versatile dish.