Cottage Pie with Cheesy Cauliflower and Veggie Mash Topping
SERVES 4
PREP TIME 15 minutes
COOK TIME 40 minutes
TOTAL TIME 55 minutes
FEATURED IN RECIPE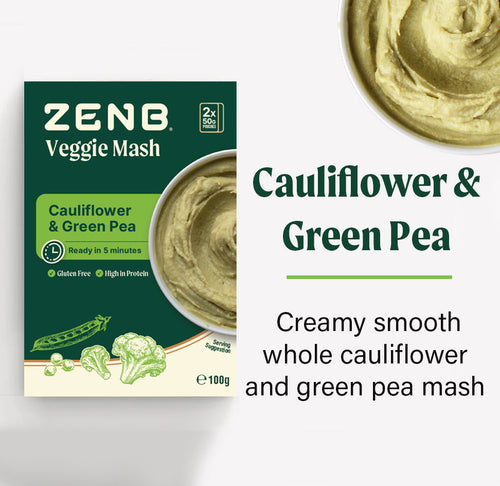 Cauliflower & Green Pea Veggie Mash
This vegetable packed cottage pie is super tasty and so simple to put together. ZENB Cauliflower and Green pea veggie mash adds a creamy, tasty topping which goes golden and crunchy when baked and is ready in no time.
If you wanted to keep this vegetarian, simply remove the beef and add some Quorn mince.
INGREDIENTS
2 x 50g pouches Zenb Cauliflower and Green Pea veggie mash
20g butter
100g mature Cheddar cheese, grated
1tbsp olive oil
1 onion, finely chopped
1 large carrot, grated
3 cloves garlic, finely chopped
2tbsp tomato puree
200g red lentils
500g minced beef
600ml beef stock
INSTRUCTIONS
1.
Place the milk in a small saucepan and add the pouch contents and whisk well. Bring to the boil stirring regularly for 30 seconds until thickened.
Add the butter and half of the cheese and stir well. Remove from the heat and set aside.
2.
Heat the oil in a large frying pan and cook the onion for 3 – 4 minutes until starting to soften. Stir in the carrots and cook for 4 minutes.
3.
Add the garlic and cook for a minute then stir in the tomato puree and cook for just a minute. Add the lentils and the minced beef and cook stirring constantly, breaking up the beef with a wooden spoon, until browned and mixed with the onion and carrot.
Pour over the stock and simmer gently for about 15 minutes until the liquid has reduced and the lentils are cooked.
4.
Preheat the oven to 200C/fan 180C/gas 6. Spoon the filling into a 2-litre ovenproof baking dish and spoon the Zenb Pea and cauliflower mash over the top.
Using the back of a spoon or a fork spread the mixture over the top of the filling and then sprinkle over the remaining cheese.
Place in the oven and bake for 20 minutes until the Zenb Pea and cauliflower mash topping is golden, and the filling is bubbling. Serve with steamed broccoli and peas.
Tasty Tips
When topping the filling with the ZENB Cauliflower and Green Pea Veggie mash make sure you leave the mash roughed up a little using a fork to give lots of texture as this creates the wonderful crusty topping.