Lemon Tahini Agile Salad
SERVES 8
PREP TIME 15 minutes
COOK TIME 5 minutes
TOTAL TIME 20 minutes
FEATURED IN RECIPE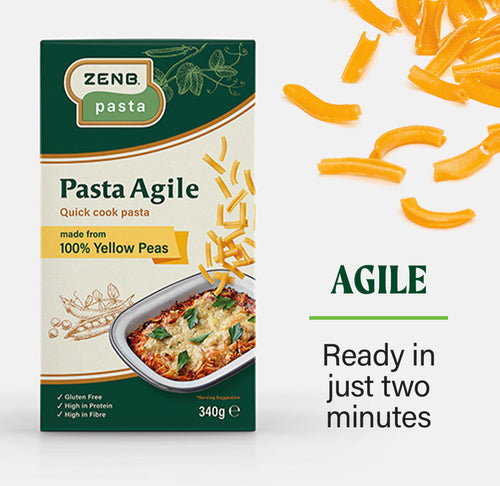 Quick Cook Pasta Agile
ZENB Pasta Agile is paired with subtle notes of lemon, nutty tahini with the crunch of different vegetables for an easy side or a small meal. This dish is also a good source of protein and an excellent source of fibre.
INGREDIENTS
2 cups water
1 box ZENB Pasta Agile
1/3 cup tahini
1 lemon, juiced
2 cloves garlic, minced
1/4 teaspoon kosher salt
3 cups small broccoli florets
1 cup shredded purple cabbage
1/2 cup shelled edamame, cooked
3 tablespoons unsalted peanuts, chopped
1 green onion, thinly sliced
INSTRUCTIONS
1.
Bring water to a boil in medium saucepan on medium heat. Stir in ZENB Agile. Cook 1 minute, cover and remove pan from heat. Let stand 1 minute until most water is absorbed and pasta is tender. Rinse pasta under cold running water until chilled.
2.
Meanwhile, whisk tahini, lemon juice, garlic and salt in a large bowl. Add pasta, broccoli, cabbage, edamame and peanuts; mix gently until combined.
3.
Serve immediately sprinkled with green onions.
Tasty Tips
Chilling the ZENB Pasta under cold running water as directed in our recipes produces the best pasta texture in cold applications. This recipe is best served immediately, as opposed to preparing ahead to refrigerate overnight.
Tahini, or sesame paste, is usually sold in jars in oil aisle of the supermarket.