Lemon Asparagus Pasta Recipe
SERVES 2
PREP TIME 5 minutes
COOK TIME 20 minutes
TOTAL TIME 25 minutes
FEATURED IN RECIPE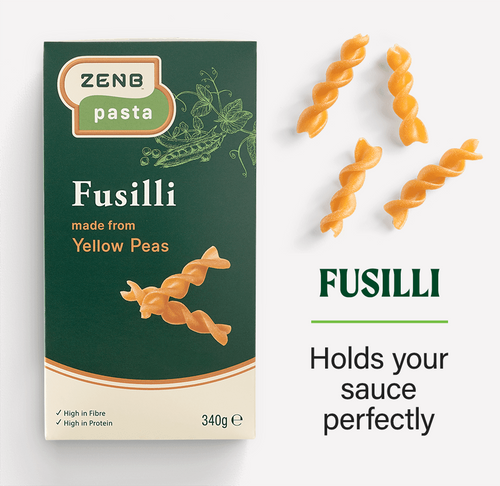 Fusilli Pasta
This Lemon Pasta Recipe is made using just a handful of ingredients and is based loosely around the Italian classic that is Pasta al Limone.
Made with a plant-based twist, this is a great recipe to call upon on a busy weeknight, when you are short on time but looking for a satisfying quick dinner. Packed full of citrusy lemon flavours, and higher in protein than most classic recipes thanks to the Yellow Pea Pasta, this meal is quick to make coming together in under 30 minutes.
INGREDIENTS
160g ZENB Yellow Pea Fusilli
30ml Pasta water, retained from cooking the Pasta
4 tbsp Extra virgin olive oil
5 Garlic cloves, minced
½ tsp Chilli flakes
100g Asparagus, cut into 2.5cm pieces
1 Unwaxed lemon, zest of
2 Lemons, juice of
½ tsp Dijon mustard
2 tbsp Nutritional yeast
40g Walnuts, roughly chopped
Small handful of roughly torn chopped basil
INSTRUCTIONS
1.
Cook your ZENB Yellow Pea Fusilli until al dente. Drain, retaining at least 30ml of the pasta water and set aside.
2.
Add a tbsp of olive oil to a large frying or sauté pan on a medium heat. Add the minced garlic and fry for 1 – 2 minutes until fragrant.
3.
Add the chilli flakes, and lemon zest, frying for a further 1 – 2 minutes.
4.
Go in with the asparagus and stir to combine, you want to cook this for 3 – 4 minutes until just starting to soften. At this point, season with salt and pepper, according to taste.
5.
Remove from the heat and make the lemon sauce. In a separate small bowl, whisk together the lemon juice, remaining olive oil and Dijon mustard.
6.
Return the pan to the heat, add the sauce and warm through with the nutritional yeast on a medium heat until combined.
7.
Add the cooked pasta, pasta water, basil and walnuts. Stir to combine.
8.
Serve immediately, transferring to two plates or bowls. Garnish with any leftover basil, chilli flakes, walnuts and lemon zest.
Tasty Tips
Al Dente Pasta: when cooking your pasta, avoid overdoing it. You still want it to be al dente (with a little bit of bite). This is because as you toss it in the sauce for a few minutes it will continue to cook and otherwise becomes very soft.
Pasta Water: retain some of the pasta water and combine with the lemon olive oil to create a silky sauce. As the pasta water contains starch when combined with the lemon oil it coats each piece of pasta easier than if it was omitted.
Fresh Ingredients: as this dish relies on very few ingredients for its flavour it is important you pick the freshest ones possible. Opt for fresh herbs over dried ones. Freshly minced garlic as opposed to garlic puree and fresh lemons as opposed to bottled lemon juice.
Tell me more
How is Lemon Pasta served?
This Lemon Pasta Recipe is best served with the ZENB Yellow Pea Fusilli and is ideally enjoyed as soon as the dish is made. However, if this isn't possible see below for recommendations on reheating, storage etc.
One of the best things about this recipe though is how simple it is to make. It is easily scalable if you need to feed a crowd. Or is equally as handy when you are short on time and looking for a quick yet satisfying meal mid-week.
Suitable alternatives if you can't find some ingredients
Olive Oil: if you aren't vegan or following a plant-based diet it is possible to swap the olive oil for butter in equal quantities.
Basil: using fresh herbs delivers the best flavour in this recipe. If you don't have basil available, you could try swapping out for another soft green herb like parsley. If neither of these are available you would be best placed to make the recipe without herbs than to use dried ones, as they won't deliver the same flavour.
Asparagus: this recipe has been written for the spring months, so procuring good asparagus out of season is likely to be tricky. Therefore, feel free to swap out for any other green seasonal vegetable or omit completely, frozen peas would be a great swap that is always readily available.
Walnuts: these have been added to the dish for additional texture, but as the classic recipe wouldn't include these. Feel free to either omit them completely or swap for an alternative nut that you have available.
Nutritional Yeast: if you aren't vegan or plant based, this can be swapped out for Parmesan or Pecorino.
Lemon Pasta variations
Whilst we recommend following the recipe for the best tasting dish, below are a few variations if you find yourself wanting to get creative:
Traditional Recipe: traditionally Lemon Pasta is not vegan and is made using cream and / or butter as part of the recipe so if you are not following a plant-based diet, this would be the most popular variation to try out. Swap out the olive oil for butter and finish with a splash of double cream and parmesan.
Seasonal Vegetables: this particular recipe uses spring asparagus, which would be tricky to get hold of outside of spring. Therefore, you could try swapping out the asparagus for other green vegetables that work well with lemons. Vegetables like spinach, peas, kale, tender stem broccoli or green beans would work well.
What other pasta shapes go well with Lemon Pasta?
Whilst this recipe uses the ZENB Yellow Pea Fusilli, any other pasta shape that captures sauce would work well.
Pasta shapes like ZENB's Penne or Macaroni would be a good alternative and still deliver the high protein content that helps to keep this plant-based meal balanced.
Otherwise, you could try any long pasta like spaghetti or linguine, knowing that ZENB is working to expand its range of pastas soon.
What to eat with Lemon Pasta?
Lemon Pasta is quite a light yet satisfying dish and given its minimal ingredients is perfect to be served alongside one or more sides to give a little variety. Why not try:
Crunchy garlic bread, which would be ideal for mopping up any remaining sauce left from the pasta
Sauteed green beans
Roasted courgette
Crispy oven baked chickpeas
A fresh simple salad
And if you are looking to make more of an occasion out of this dish, why not try these suggestions:
Meat Eaters: try adding some roasted and shredded chicken breast to the finished pasta dish for an additional source of protein. You could even serve a creamy tomato soup to start topped with crispy croutons and pan-fried bacon or pancetta pieces.
Vegetarians: those that aren't following a plant-based diet can swap out some of these ingredients in this recipe for dairy alternatives. Swap the olive oil for butter and nutritional yeast for cheese. You could even add a splash of double cream for extra creaminess.
If you are looking for a starter to accompany the dish, why not try a cheesy garlic bread, maybe even topped with some caramelized red onions.
Vegans: adding some crispy chickpeas to the top of this dish would be a great way to enhance it, add another texture and get another source of protein included.
For a starter, a crunchy crisp vegetable salad would work well with a dollop of hummus on the side.
Gluten Free: for those following a gluten free diet, all of those listed above would work, the exception being that for the garlic bread you would need to opt for a gluten free variety, to ensure it is suitable.
What to drink with Lemon Pasta?
A dish with high acidity like this Lemon Pasta, has two options when it comes to drinks. Either match the acidity or contrast it.
Wines: An English sparkling wine would make a lovely pairing if you were looking for a white option. Or a Pinot Noir or Valpolicella would make a good alternative if you were looking for a light red to enjoy alongside it.
Beer: opt for an icy cold crisp lager, ideally one with a subtle citrus aroma or even a wheat beer.
When to best enjoy Lemon Pasta?
This healthy lemon pasta recipe is best enjoyed as soon as it is made, although if you continue further down there are options for storing and reheating this recipe.
Unfortunately, though by storing and reheating this dish, the pasta can become a little dry and rubbery. However, given that it comes together in under 30 minutes it is a great recipe to be made as and when needed.
This is also a dish that is easily scalable, so great for enjoying with a large group of family and friends and given it calls for mainly store cupboard ingredients it is a great recipe to enjoy when you get those impromptu guests.
How to store Lemon Pasta
If you are looking to store this Lemon Pasta, ensure it has cooled fully before placing it in an airtight container.
Once cool, place in the fridge where it will keep for up to 3 days.
How long does Lemon Pasta last in the fridge?
This Lemon Pasta with Asparagus will keep in the fridge for up to 3 days as long as it is stored in an airtight container and has cooled fully before being refrigerated.
Can Lemon Pasta be frozen?
It is possible to freeze this Lemon Pasta, but it isn't suggested as you tend to lose some of the flavour in the freezing process.
If you are looking to freeze this dish, allow it to cool fully before transferring to an airtight container. Place in the freezer where it will keep for 3 months.
When ready to use, allow to thaw out in the fridge overnight.
Can Lemon Pasta be reheated?
It is possible to reheat this Lemon Pasta.
To reheat, gently rewarm the pasta in a large pan over a medium – low heat. Add a splash of water as required, to thin out the sauce. Toss the pasta regularly and freshen up the dish with an additional squeeze of lemon.
What is the difference between Lemon Pasta and Garlic Pasta?
Lemon Pasta and Garlic Pasta are very similar. They are both simple pasta dishes that focus on a handful of ingredients and really allow the individual flavours of the produce to come through.
The main difference between the two dishes, is whilst Lemon Pasta uses garlic to create the silky lemon sauce, Garlic Pasta just relies on a larger volume of garlic (and no lemons) so make up the sauce for this dish.
What is the difference between Lemon Pasta and Pink Pasta?
Pink Pasta is made from a sauce that combines a classic tomato sauce with a cream sauce, resulting in a creamy pasta dish that is a subtle pink colour that is not too rich and heavy.
Whereas Lemon Pasta almost has a colourless sauce and focuses on citrus flavours from the lemons that are the star ingredient in this dish.