Lauren Lovatt's Tricolour Pea Salad
SERVES 2
PREP TIME 10 minutes
COOK TIME 15 minutes
TOTAL TIME 25 minutes
FEATURED IN RECIPE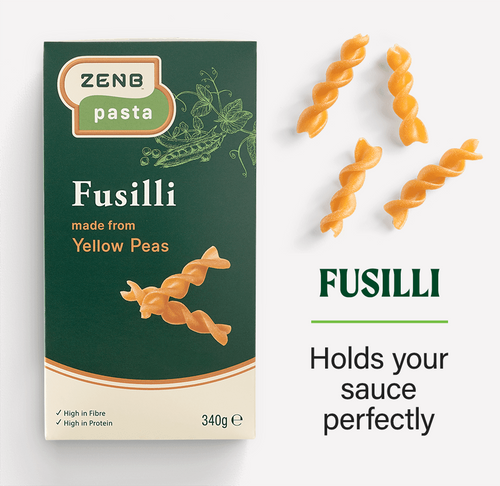 Fusilli Pasta
This flavour-packed recipe by chef Lauren Lovatt is made with ZENB Fusilli Pasta is full of protein with pea pasta, green peas and chickpeas. A great salad for lunch on the go.
INGREDIENTS
1/4 Box (85g) ZENB Fusilli Pasta made from 100% Yellow Peas, uncooked
100g frozen green peas
100g chickpeas
3 tablespoons olive oil
1 tablespoon apple cider vinegar
1 teaspoon wholegrain mustard
100g crusty bread
INSTRUCTIONS
1.
Cook ZENB Fusilli Pasta as directed on the box. Once cooked drain and set aside. Heat a frying pan with 1 tsp olive oil and add the peas to the pan.
2.
Cook the peas for a couple of minutes until they are thawed then add the beans to the pan too and turn off the heat. Season the peas and beans with a pinch of salt.
3.
In a small bowl mix the remaining oil apple cider vinegar and mustard. Now mix the pasta, peas and beans and the mustard dressing together and place the dressed pasta into serving bowls to cool.
4.
Blitz the bread into breadcrumbs and then lightly toast them in the frying pan to crisp them up. Serve the pasta salad cooled and sprinkled with the breadcrumbs.
5.
The dressed salad will keep for three days in a sealed container in the fridge.
Tasty Tips
This is a great way to use the end of a loaf of bread it adds texture to your pasta and whole grains.