Lauren Lovatt's Cheese and Tomato Pasta Bake
SERVES 2
PREP TIME 10 minutes
COOK TIME 30 minutes
TOTAL TIME 40 minutes
FEATURED IN RECIPE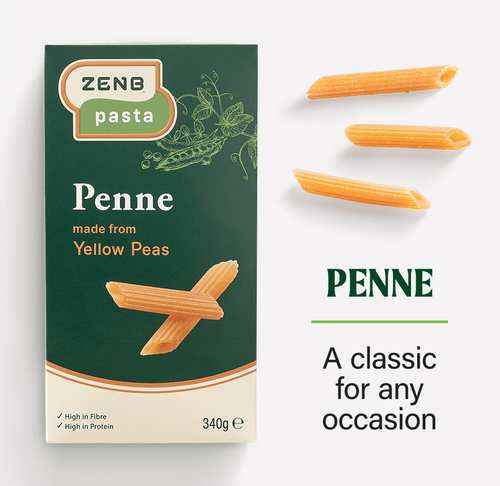 Penne Pasta
This is a totally moorish pasta dish that is creamy, crunchy and laced with fragrant herbs. No chopping board required just one saucepan and a baking tray, it couldnt be more efficient! 
INGREDIENTS
1/4 Box (85g) ZENB Penne Pasta made from 100% Yellow Peas, uncooked
200g firm tofu, smoked if possible
100g raw cashews, soaked for 1 hour in billing water then rinsed
50ml water
50ml olive oil
1 tsp white miso
300g cherry tomatoes
1 tbsp smoked paprika
1 tsp dried oregano
INSTRUCTIONS
1.
Preheat your oven to 180c. Cook ZENB Penne Pasta as directed on the box. Once cooked drain and set aside.
2.
Blend the cashews and tofu with the water, olive oil and miso, blend until smooth.
3.
Place the tomatoes on a baking tay and then pour over the creamy sauce. Sprinkle the smoked paprika and oregano over the tomatoes and creamy sauce
4.
Bake in the oven for 30 minutes until the tomatoes are soft and the top of the cheese is crisp and golden. Add the pasta to the baking tray and mix everything together well. Serve hot!
5.
The dressed salad will keep for three days in a sealed container in the fridge.
Tasty Tips
Add 1 teaspoon of dried chilli flakes if you're looking to spice things up.