Lauren Lovatt's vegan Tempeh Bourguignon
SERVES 2
PREP TIME 5 minutes
COOK TIME 25 minutes
TOTAL TIME 30 minutes
FEATURED IN RECIPE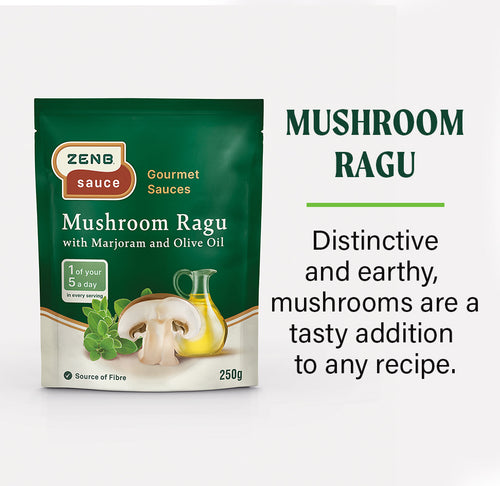 Mushroom Ragu
Tempeh bourguignon is a vegan version of the classic French dish, Beef Bourguignon. By using our new mushroom ragu sauce, packed with delicious flavour, It helps create a hearty and flavourful stew, which we have paired with some tasty crispy pan-fried tempeh and our brand-new mushroom ragu sauce.
The versatility of this recipe allows you to experiment with a variety of seasonal vegetables, both greens and roots, plus it's so easy to make!
To truly indulge in the wholesome goodness, consider pairing this delightful dish with a serving of whole potato mash and some greens, or get creative and serve it alongside your favourite vegetables, bread, or grains. The best part is that it's a filling main meal that can be made in advance and easily warmed through whenever you're ready to enjoy it.
INGREDIENTS
• 1 pouch (250g) of ZENB Mushroom Ragu
• 1 leek (washed)
• 1 carrot
• 250g tempeh
• 100g shitake or button mushrooms
• 50g cherry tomatoes
• 30g spinach (washed)
• 2 tbsp Olive oil
INSTRUCTIONS
1.
Prepare the vegetables by cutting the leeks and carrots into 1-inch pieces if the carrots aren't organic be sure to peel them too.
2.
Cut the tempeh into 1-inch cubes and prepare the mushrooms by cutting them into small chunks.
3.
Heat a frying pan with the oil, and once the oil is hot adding all the prepared vegetables (apart from the spinach) and tempeh. Cook for 5 minutes until everything is golden then add the ZENB Mushroom ragu sauce with an additional 150ml water to rinse out the packet and make sure nothing is left behind!
4.
Simmer the sauce with the vegetables for 15 minutes until all the vegetables are cooked through and then add the spinach and cook for an additional 2 minutes, until wilted.
5.
Serve hot with your chosen accompaniments and enjoy!
Tasty Tips
Add coat of soy sauce and other seasonings to the tempeh to really heighten the flavour.
You might benefit from a frying pan with high sides for this recipe.